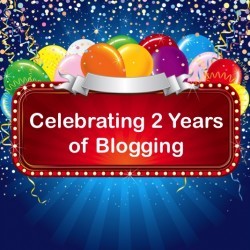 Two years ago, as I sat down to write my first blog post, I found myself at a loss for where to start. As a focusing activity, I decided to write the purpose of my blog. It was quite helpful, and I ended up making that the topic of my first post: The Answer to What is Why.
I hit the publish button that evening, sent out a tweet – "What happens when you put a message in a bottle? I'll find out in the morning. I just published my first blog post" – and then I went to bed. When I awoke the next morning, I was surprised to find 6 comments waiting for me, and more came in later that day. In some ways it was more exhilarating than publishing my first book. Such tangible, instant feedback!
Since then, I have written at least one blog post a week for the past two years. I have found my rhythm and style, and blogging has become part of my routine. My original purpose in blogging still holds, and I have personally benefited and grown as a result. To be honest, I still take a deep breath when I hit the publish button as it still feels a bit audacious sending my words off into cyberspace.
There have been some unexpected bonuses. I am delighted that my blog has become recognized and widely read in such a short period. What I noted in my first post holds true. Each post is like sending a message in a bottle – there are no guarantees it will be received, understood or appreciated.
The second bonus is that I often get a lot of comments. This has been the most rewarding part of blogging for me. I love the conversation as reader comments deepen the messages in my posts and take me further in my own thinking.
Finally, I have been honored to discover and connect with some wonderful leadership bloggers who generously offered me guidance early on, many of whom who have become real friends – Lolly Daskal, Wally Bock, Dan Rockwell aka Leadership Freak, Becky Robinson, Whitney Johnson, Bret Simmons, Mary Jo Asmus, Tanveer Naseer, Kathy Caprino and my buddy Chris Edmonds who I had worked with at the Ken Blanchard Companies.
My only concern is that a lot of my original thinking was published before many people were aware of my blog. Because people tend not to read older posts, they are missing out on material I have not repeated. For the past two years, I've been laying out my research, concepts and process for creating a shared vision, interspersed with information on building high performing teams, organizational change, collaborative leadership, and navigating non-hierarchical work environments.
30 quotes from my first year of blogging
A while ago I listed some quotes from my books. Recently my friend and colleague Irene Becker suggested I list some quotes from my blog. I think it's a nice way to honor and celebrate my 2nd anniversary. Each quote links back to the original post.