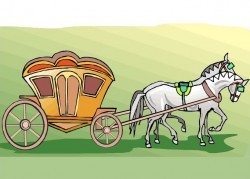 A story is told that one day as Elimelech of Lizhensk, a great rabbi in the 18th century, was riding in a carriage, he noticed a throng of people following.
He asked his coachman, "Why are all the people trailing behind?"
The coachman explained that the people wanted to follow after wisdom and holiness.
Elimelech decided that this was a good idea — the people were doing the right thing.
So he got out and joined the people following the empty carriage.
Leadership lessons for today:
It's not about YOU. Don't confuse yourself with the carriage, the vehicle. You an instrument, not the source.When we forget this and think we are the center of the universe, our ego takes over and we lose our focus, our priorities and our full strength.
Great leaders do not hold themselves separate from the people they lead. They truly respect and care about them, not just from a distance.Joining the people means connecting with others as fellow human beings and knowing you are no more important than the people who follow you.
Great leaders follow. They draw their understanding of what's happening and what's needed from the people who follow them.
Leadership is a dance, not a parade!