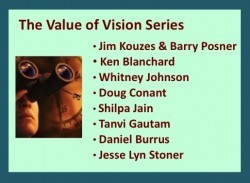 Recently a senior executive asked me to help him with a vision statement. He saw this as an activity that needed to be completed. Although he wasn't clear about his vision for the company, he just wanted help writing a good statement that would satisfy the board. I don't think he's unusual.
I've been wondering what happened to vision. It used to be sexy. Is it considered outdated in the context of today's fast-paced, ever-changing world?… have we "vision experts" failed to communicate it well enough?… have we failed to show how vision links to daily work life? … is the term so overused that it has lost its meaning? Or am I wrong and it's alive and well?
The Future Is Not What It Used to Be
I have written about my concern before in The Last Thing You Need Is a Vision and also when I asked the question What Happened to Vision? Your Thoughts? where a number of readers shared their thoughts.
To explore this issue further, I invited several leadership experts and thought-leaders to join me in sharing their views.
Not wanting to push my own agenda, I asked them to be candid in their views. Here's what I said in my invitation:
The question I'd like you to address in some form is:  Is vision relevant today?
I'd like to hear what you strongly believe – no matter what that is. I would like my readers to hear from a variety of the brightest thought-leaders. I have no agenda, and I don't want to shape what you will say.
The Value of Vision Blog Series
Here is what they had to say. You will hear a variety of views because each author has approached the subject differently. Click on the author's name below to view their post, or move forward through my blog by clicking the name of the next post in the upper right hand corner of the page.
1. Ken Blanchard – Author of The One Minute Manager and over 30 other leadership books.
2. Jim Kouzes and Barry Posner – Authors of The Leadership Challenge.
3. Whitney Johnson – Co-founder of Rose Park Advisors, Clayton Christensen's investment firm, and regular Harvard Business Review contributor.
4. Doug Conant– Former CEO of Campbell Soup.
5. Shilpa Jain– Executive Director of YES!
6. Daniel Burrus – Technology futurist and author Flash Foresight.
7. Tanvi Gautam – Managing Partner, Global People Tree.
8. Mike Myatt – CEO of N2growth and regular Forbes contributor.
9. Kate Emery – CEO of The Walker Group and founder of reSET Social Enterprise Trust.
10. Jesse Lyn Stoner – me
I hope you will find their posts as thought-provoking as I did and that you will be inspired to join the conversation.