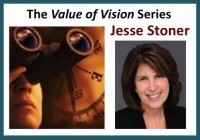 Considering the compelling case for the value of vision, it's strikingly absent these days.
Recent research by Kouzes and Posner demonstrates that "being forward-looking is the quality that most separates leaders from individual contributors."
However, "it's something that too few fully appreciate, and too many devote almost no time to developing," says Jim Kouzes.
What happened to vision? Where has she gone?
She held so much promise 30 years ago when people like Warren Bennis, Peter Senge, Jim Kouzes and Barry Posner first brought her to our attention.
Did she get worn out? Did she grow old and tired?  No, it's worse than that.
Vision has been prostituted.
By mission statements that are no more than meaningless marketing messages – We have covered her in gaudy makeup and dressed her in stilettos …
By using vision as an excuse from driving a change vision that does not benefit the individuals in the organization – We have given her a job that is beneath her dignity …
By not demonstrating how the vision connects to daily life, what I call "managing the mid-space" – We see her as irrelevant …
By leaders who espouse vision but do not model it or who act in their own self-interest – We have lost respect for her …
It's time to take her off the street, clean off her rouge, toss the stilettos, and put her back in her rightful place.
Vision makes work meaningful and helps us see our commonalities and trust we share the same goals and values. Vision helps us feel connected to something larger than ourselves.
Without a vision to serve, we are in danger of becoming self-serving.
"An organization without a clear vision or goals is like a river without banks—it stagnates and goes nowhere," says Ken Blanchard.
Three Things You Can Do Right Now
The right vision:  Stop using vision as a catchall phrase. Vision is more than a picture of a desired future. It is deeply rooted in purpose and values. Learn the three elements of a compelling vision and the characteristics of a driving vision.
The right place: Get clear about your own vision. Where your vision overlaps with your company's vision is where the magic is. Doug Conant says, "If it doesn't overlap, you're in the wrong place."
The right work: Each day ask yourself and talk with others about how what you're doing at that moment advances the vision. If it doesn't, you're doing the wrong work.
 —————————
A special thank you to my guest authors for their wonderful contributions in The Value of Vision Series. If you missed any of them, I encourage you to click on their name below to read their post. Each author looked at vision from a different perspective. Together they weave a rich tapestry.