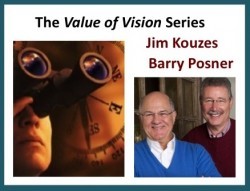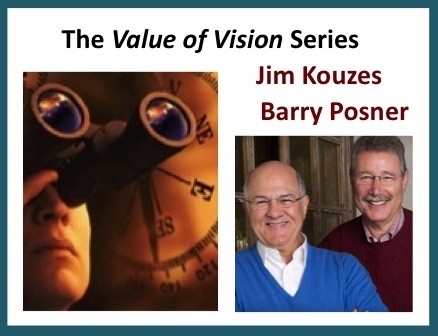 Focusing on the Future Sets Leaders Apart
Jim Kouzes and Barry Posner
We've all had a glimpse of the future. You know, that time when you imagined running your own business… or that dream of traveling to an exotic place… or that bold idea for a game-changing new product… or that burning desire to get an advanced degree… or that sense of purpose you felt when you signed up for the sustainability campaign… or that calling to join a cause and make this a better planet… or that uplifting sense you got when picturing kids playing in a neighborhood without fear. All of us dream of what might come to pass some day. Leaders take these dreams seriously and act to make them happen.
The truth is that focusing on the future sets leaders apart. 
The capacity to imagine and articulate exciting future possibilities is the defining competence of leaders. We know this because we asked followers. For over thirty years we've been asking people to tell us what they most look for and admire in a leader, someone they would willingly follow.
The quality of being forward-looking is second only to honesty as the most admired leader characteristic. On average, 71 percent of respondents select it. In Asia, Europe, and Australia the preference for forward-looking is several percentage points higher than it is in America.
We've also been asking a similar question about what people look for in a colleague (someone they'd like on their team), and the responses to this question have revealed a telling and vital distinction between leaders and individual contributors.
Using the identical list of desirable qualities, the number one requirement of a leader, honesty, is also the top-ranking attribute of a good colleague. But, the second most desirable quality of a leader — being forward-looking — is not even in the top ten attributes of a colleague. It's selected by only 27 percent of the respondents. No other quality we've studied showed such a dramatic difference between leader and colleague.
Yet, in spite of the fact that being forward-looking is the quality that most separates leaders from individual contributors, it's something that too few fully appreciate, and too many devote almost no time to developing.
If nothing is done to address this shortcoming, it will become a huge barrier to your future success. That's because the challenge escalates with managerial level. Frontline leaders are expected to anticipate events only about three months down the road. Middle level managers often need to look three to five years into the future. Those in the executive suite must focus on a horizon that's ten or more years distant.
Crossing the chasm from individual contributor to leader requires fully embracing the need to develop the capacity to envision the future. Making the transition from average to exemplary leader, regardless of level, requires the dedication to master it.
And how does a new leader develop the capacity to be forward-looking?
The answer is deceptively simple: spend more time in the future. You have to carve out more time each week to peer into the distance and imagining what might be out there. You have to take the time today in order to have the time tomorrow.
The trouble is, it's not all that easy to do. The most experienced and senior executives struggle with it. Some researchers have found, for example, that top executives spend only about 3 percent of their time thinking about, and getting others on board with, the critical issues that will shape their business ten or more years down the road. That's not nearly enough time. That's why you have to be disciplined about this.
One of the leaders we interviewed said to us, "I'm my organization's futures department." All leaders should view themselves this way. Because being forward-looking is the differentiating leadership quality, you need to spend more time reading about, thinking about, and talking about the long-term view. Make it your business to study the future.
Set up a futures research committee to study potential changes and developments in areas affecting your organization. Put together a team to continually track fifty or sixty publications that represent new thoughts on trends in your domain.  Ask them to prepare abstracts of articles they think have relevance. A smaller team can then pull the abstracts into reports for use in planning and decision-making. Or simply have all the people in your organization regularly clip articles from newspapers, magazines, and Web sites.
Circulate the ideas generated and discuss the impact of trends on your products, services, technologies, and constituents. Use these discussions to help you and your organization develop the ability to think long-term.
Developing the capacity to envision the future requires you to spend more time in the future – meaning more time reflecting on the future, more time reading about the future, and more time talking to others about the future. It's not an easy assignment, but it is an absolutely necessary one. It also requires you to reflect back on your past to discover the themes that really engage you and excite you. And it means thinking about the kind of legacy you want to leave and the contributions you want to make.
It's your job as a leader to lift people's sights and lift people's spirits.
You must remind others – who are often so mired in the day-to-day of work and life that they lose their bearings – that there is a larger purpose to all this doing. You and they are working hard in order to build something different, to make something new, to create a better future. That's why it's important to invest the time today in tomorrow's future.

Jim Kouzes and Barry Posner are the coauthors of the bestselling and award-winning The Leadership Challenge, and over a dozen other books on leadership including The Truth About Leadership, Making Extraordinary Things Happen in Asia, A Leader's Legacy, Credibility, and Encouraging the Heart. Jim is the Dean's Executive Fellow of Leadership and Barry is the Accolti Endowed Professor of Leadership at the Leavey School of Business, Santa Clara University. Follow them on Twitter @Jim_Kouzes and @TLCTalk and find them on Facebook Jim Kouzes and TLC Page.