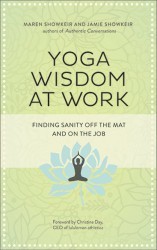 Did you know that yoga is about more than just stretching and putting your body in poses? In fact, physical activity is just one of the Eight Limbs of Yoga.
I had the pleasure of interviewing Maren and Jamie Showkeir, authors of the fascinating new book Yoga Wisdom at Work: Finding Sanity Off the Mat and On the Job. Their book explains how all eight limbs apply to the workplace.
In our 15 minute discussion, we focused on two of the limbs: Universal Morality and Focus. You can hear their views and practical advice on:
How we limit our potential by listening to our inner critic.

How small acts of unkindness and disrespect in the workplace erode our power, creativity and productivity.

What you can do if you are working in a toxic work environment.
How to respond to the demand to be "always on" via technology and always available in work places with limited private space.
Listen Here