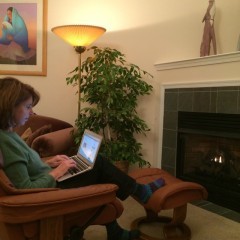 It feels like a déjà vu. As 2013 draws to a close, here I am again sitting by a warm fire on a wintery Sunday night in New England, just as I did exactly a year ago, reflecting on the year and taking the opportunity to identify my top posts.
Again, I have turned this into a bit of a project. This time I created a formula that included the number of views from google analytics , the total number of social media shares and the number of reader comments. Some of my personal favorites are not on the list, but I think it pretty accurately reflects what my readers liked best.
I did not include my Value of Vision Series in my analysis because it was a huge, unique project, where I collected posts from a variety of leadership experts (ranging from CEO's to senior consultants to futurists), all responding to the same question, "What is the relevance of vision in today's world?" I am proud of this series as I believe it has added a collective voice to an important conversation, and my hope is that it will continue to make a contribution. If you missed it, here is the Introduction to the Value of Vision Series. It's a good place to start.
I was honored to host many excellent guest posts this year, which I also did not include in my list. The top  guest post (using my formula) is:  What I Wish I Knew as a CEO That I Learned Later in HR by Les Hayman.
I want to take this opportunity to thank you, the readers of my blog. It has been gratifying to see the readership of my blog grow so rapidly. One of the reasons I put so much effort into this is that I get back as much as I give. Not only is this a way to share what I've learned over the years, but it also helps continue my learning. The comments you leave help me deepening my own thinking and inspire and enrich me.
Warm wishes for a healthy and joy-filled new year.
~ Jesse
 

Top 10 Blog Posts of 2013
Number 1:  Let's Stop Confusing Cooperation and Teamwork With Collaboration
Number 2:  The Six Benchmarks of High Performance Teams
Number 3:  Stop Waiting for Someone Else to Provide Leadership
Number 4:  What Brain Science Can Teach Us About Leadership
Number 5:  Collaboration Is the Remedy for Polarization
Number 6:  How to Write a Mission Statement in Five Steps
Number 7:  Ten Tips for Delegating – The Best Time Management Tool
Number 8:  Why Good Teams Make Bad Decisions
Number 9:  Alfred's Wake Up Call
Number 10:  The 12 Skills of Brilliant Team Members