If you are tired of "trickle-down" change, consider using a collaborative change process where a large slice of your organization comes together for real conversation and to make decisions about your collective future in real-time.
This kind of high-involvement process was used by Southern New England Telephone to prepare for deregulation and the emergence of competition. It was used by Jackson Hole Ski Resort to reconsider their strategic direction. It was used when the Boston Gardens closed and they opened the new Fleet Center building. It was used by the Seaport Hotel and World Trade Center when they opened under new management.
It has been used by hundreds of other organizations, where leaders understood that the attempt to hold onto power at the top of the organization would ultimately topple their efforts and that the most powerful path forward was through a high-involvement process that trusted the intelligence and commitment of the people in their organization.
There are many methodologies that bring large groups together for real conversation and decision-making, such as Real-Time Strategic Change,  Open Space, and the World Cafe to name a few.
Not only is this a powerful force for change and commitment, but it is one of the most respectful ways an organization can invite the fullest contribution of its members. I am always touched and in awe of the transformation that occurs.
This is what a different way of working can look like. (Click on the pictures to see more detail).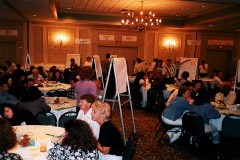 There is a room of 250 people, set with round tables. People are preassigned to tables that maximize diversity – all levels, areas of the business, roles, gender, nationality, etc.
No one is more important than anyone else. The executives are dispersed at the tables, not sitting separately.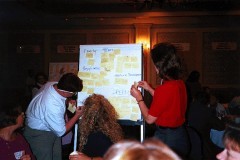 There are no motivating speakers. No boring speakers, either. People are not "talked at."
The information needed to do the work is shared.
Table groups tackle tough business questions. They are self-facilitated and rotate roles of time-keeper, recorder and spokesperson.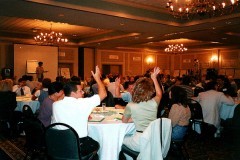 Spokespeople from tables share their thoughts, questions and conclusions with the entire room.
A collective view emerges.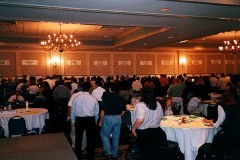 Each individual has an opportunity for their voice to be heard.
There is an opportunity to vote on issues, priorities and actions needed.  Decisions are made during the meeting.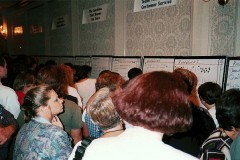 In the end … smart business decisions are made… there is deeper understanding of what is needed… there is a greater commitment for implementation… and an orientation of "me" shifts to "we."