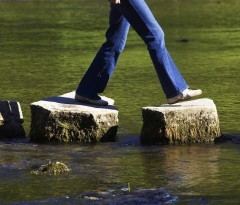 When I published my Value of Vision series, I had no idea I had done something unusual.  I am concerned about the current lack of interest around vision in leadership, and I had hoped that publishing a series of views from a variety of experts might help boost the topic back onto the radar.
I was surprised when Wally Bock told me he hadn't seen a blog series like this before – one with so many significant thought-leaders writing on the same subject. Wally asked for an interview to identify some lessons that had made the series successful.
Wally Bock is a highly respected and accomplished business writer, ghost-writer, and editor. In addition to his popular Three Star Leadership blog, Wally writes the Zero Draft blog that provides advice on writing (e.g. books, blogs, articles, web site copy, etc.) for people in business. Here's what Wally wrote:
Case Study: Jesse Lyn Stoner's Value of Vision Series
Jesse Lyn Stoner writes one of my favorite blogs. I profiled it in 2012 in "Blogs I Like" where I talked about her superbly crafted posts. In June, 2013, she began a series on vision. I've seen many bloggers invite others to do a guest post. I've seen many bloggers do a series.
Jesse combined those two ideas into an effective series about an important leadership topic: vision. Like many good blog posts, Jesse's series began with a question.
Click here to continue reading and to see the lessons Wally identified …..
The Conversation Continues
I have been pleased to notice recently others engaging in this conversation. Mike Henry, Sr., founder of the Lead Change Group, recently wrote an excellent post endorsing the value of vision, and Jon Mertz recently questioned its value in his credible post Is Vision Still Valid?
I am not wedded to the notion that everyone should believe vision is important. For one thing, there is no commonly agreed upon definition of vision, and quite often people are not even talking about the same thing.  My own definition, quoted by Zig Ziglar, is: "A vision is a clearly articulated, results-oriented picture of a future you intend to create that illuminates your underlying purpose and values." In our book Full Steam Ahead! Unleash the Power of Vision, Ken Blanchard and I offer a similar definition: "Vision is knowing who you are, where you're going, and what will guide your journey." Both of these definitions show that clarity on your purpose and values are deeply rooted in a real vision.
My concern is not whether people agree on the definition. Nor is my concern whether people agree that vision is important.
My biggest concern is how little concern there is with the question itself—how little interest there is in thinking from a big picture perspective. I agree with Doug Conant's observation that "people today are less interested in the vision and more interested in 'how to.'" The most popular leadership blog posts are those with numbers in the title: " 7 ways to…" " 6 tips for…" "3 secrets of…." It seems most people are primarily concerned with how to take their next steps.
The question is more important than the answer.
How can you be concerned with your next step if you don't know where you're going or why you want to go there? We must elevate our most important conversations back to a big picture perspective.
What's essential is not agreeing on the answer, but that we continue to explore these kinds of questions. It is in these conversations that we will discover what is most essential and understand how to figure out our next steps.
p.s. In case you missed any of the excellent posts in The Value of Vision Series, you can read them by clicking on the name of the author below: