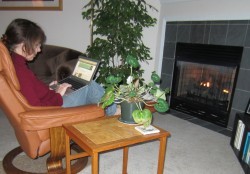 As 2012 draws to a close, I have taken the opportunity to sit by the warm fire on this snowing New England Sunday and identify my top ten posts of the year.
I decided the top posts would be selected by my readers – by whether they felt a post was important enough to share with others and whether they were moved to comment on it. Also, I only considered posts that were first published on my own blog.
Having some extra time on this cozy day, I decided to turn this into a scientific project. I created a formula where I totaled the number of shares on Twitter, Facebook and LinkedIn. I then assigned a weight to the number of comments and factored that in.
I've listed the top 10 posts below, and I am now mulling over what it was about these particular posts that made them the most popular. Here are some of the patterns I noticed:
One of the things I usually do in my posts is translate theory into practical action. Five of the posts fall into that category.
Two of the posts are primarily conceptual, offering only general guidelines for action (Leadership Lessons from Kindergarten and 8 Things Collaborative Leaders Know). That's a surprise.
Also interesting, I wrote three posts this year that clarify concepts and all three made the list: the difference between a goal and a vision, between a manager and a leader, and between a charismatic and a visionary leader.
I often write about purpose, vision and values. Last year 80 % of my top posts were on that topic. This year only 30% were.
What do these patterns mean? What do they say about my writing or about what readers are most interested in? I need to mull this over before drawing any conclusions. And if anyone has some thoughts, I'd love to hear them.
Meanwhile, I hope you'll check out the list below. And if you find some you'd like to read, I hope you enjoy them and find them helpful.
Warm wishes for a healthy and joy-filled new year.
~ Jesse
Top Ten Blog Posts of 2012