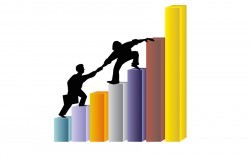 "It is critical that you build a pool of recognized, well developed and prepared talent for the organization, and that you identify and build future leadership."
~ Les Hayman, former Global HR Head of SAP and former CEO/Chairman SAP Asia Pacific, EMEA
One of the key business needs of any organization is a ready-now pool of talent and future leaders.
One option is to hire people who are already competent. However, it is unwise to bring in a constant flux of outsiders. Of course you need fresh perspective, but too much churning keeps your wheels spinning, and the cost of attrition is expensive. 
Promoting from within is a smart business strategy.
Those who already understand the business and how to navigate the politics have important knowledge that can't be acquired quickly.
Not only does investing in the development of your people increase your internal talent pool, a key driver of  employee engagement is the opportunity for development.
Because development is an important business issue, it needs to be "owned" by management.
Development cannot and should not be delegated to HR. According to Les Hayman, managers should be responsible for their people. "Recruitment, talent and performance management, succession planning are issues for management (not HR)." The role of HR should be to facilitate, advise and support, and to ensure that managers have access to easy-to-use tools.
According to Hayman, 70% of development should be on-the-job.
Hold managers accountable for the development of their people, not just delivering results.

This is not just about identifying high potentials. Too many talented individuals get missed when line managers are not paying attention to their people early on. Line managers need to develop a foundation of talent from the outset, or you will lose some of your best people before you even notice them, according to Bev Kaye and Julie Giulioni authors of Help Them Grow or Watch Them Go.
"Sink or swim" doesn't work. Young people entering the workforce, no matter how good their education and no matter how bright, need to be supported in learning how to execute their job responsibilities, how to navigate the system and the informal practices embedded in the culture.
Those who are recently promoted or have been transferred to a new position need support in getting up to speed with their new responsibilities as well as how to work with their new team.
Don't overlook the "sleepers," people who are quietly doing their job unnoticed. There have been many cases where people who have been overlooked for years, when put in the right positions and with the right support, have provided the leadership that was exactly needed.
Toss out your old-fashioned assumptions of the "bell curve." Have you really given everyone the opportunity and support they need to develop? When people feel they are valued and are given the opportunity to grow, those who were once disengaged will often become re-committed.
When managers understand that building capabilities is as important as delivering results, you won't be forced to look outside for winners – you'll have a ready pool of talent within.