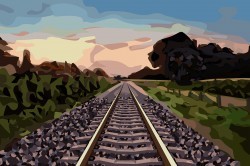 "It was so much easier this year to set our team goals, now that we have a shared vision," Chris remarked, reflecting on the visioning process they had recently completed. "We are way ahead of the curve this year!"
Was he right?  Maybe …. It depends on whether his team's systems and practices support their vision.
Do their policies and procedures make getting the job done easier or harder?

A team might start off aligned around a shared vision, but unaligned systems and practices can quickly derail them.
Are team members dependent on each other in order to accomplish certain goals?
. . .  If so, what communication processes are in place so they can effectively coordinate their efforts?
Do any of the goals depend on a team effort?
. . .  If so, are they evaluated and compensated solely on the basis of their individual performance?
Does their vision include providing excellent customer service?
. . . If so, do customer-contact people have the authority to make key decisions regarding the customer?
Create "Structural Integrity"
Not only must goals be aligned with your vision, but your team must also have "structural integrity" – all of the underlying systems and processes that support your team must be designed to steer you in the direction you want to go.

To ensure your team stays on track, examine each of these systems:
1. Information – Do team members have direct access to the information they need to in order to accomplish their goals?
2. Feedback and communication – What do you need to communicate with each other? Where, when and how is the best way? What kind of feedback do you need in order to track your progress?
3. Rewards, recognition and compensation – How will you reward and celebrate team accomplishments as well as individual contribution?
4. Training – In order to implement your goals, what skills are needed? Do you need to develop team skills such as conflict management or giving feedback?
5. Accountability – How will you hold yourself and each other accountable?
I received this message on Twitter yesterday: "Our HR manager cheated on a Quiz in front of colleagues the day before speech on values." Ignoring issues this this will derail your team faster than anything.
6. Control and authority – Do team members have the authority they need to do their job?
Last week UPS sent me an email that they were delivering a package during a 4-7 pm window and that someone needed to be there to sign for it. I arranged to be there, but the package wasn't delivered. I called customer service who told me they had put it on the wrong truck and would deliver it the next day during the same window. I explained that was not a convenient window and, since it was their mistake, to please give me an earlier one. She said I could only make that request online and there would be a fee. She didn't have the power to change the window herself or to waive the fee. The only power she had was to apologize.