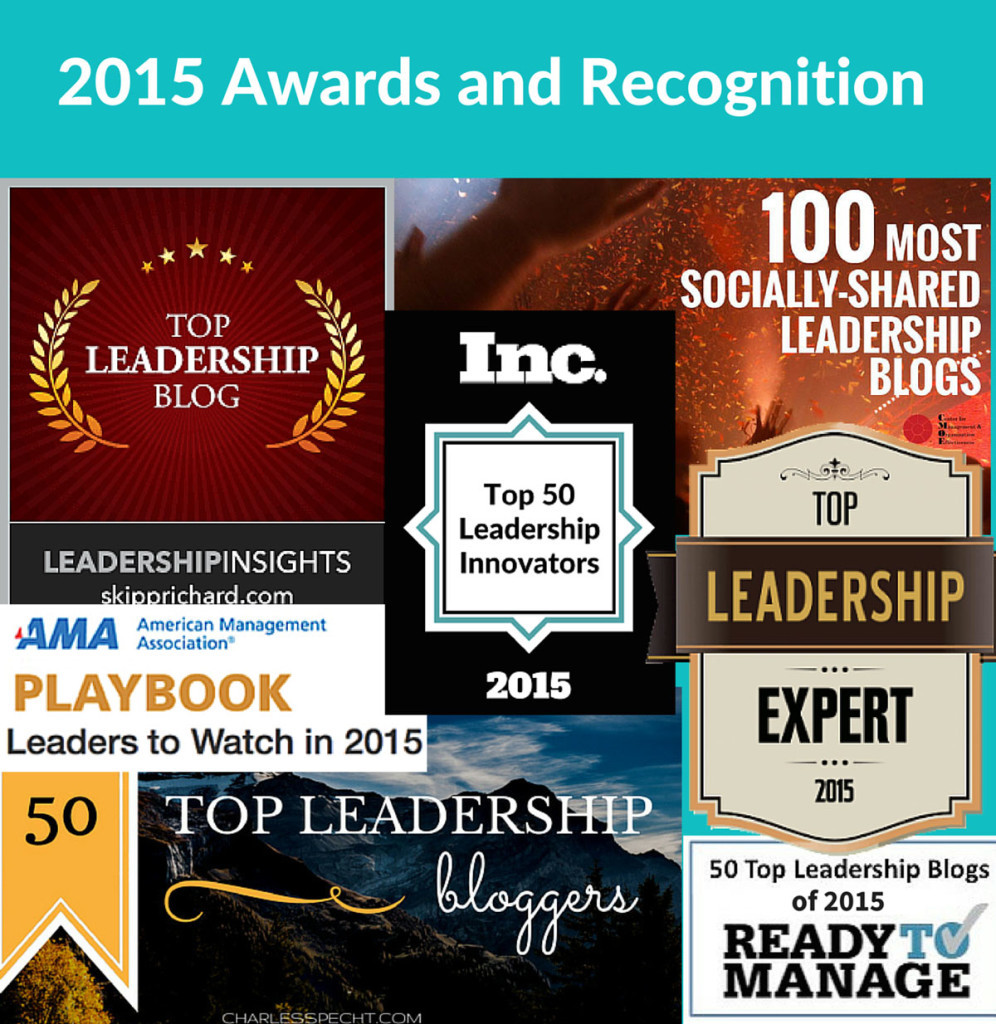 My year-end review has become one of my favorite posts to write. I get to take my own advice – to reflect on the big picture, look for patterns, and see what I can learn.
Here's what I found:
➤ A record number of page views – over a half-million during 2015!
➤ A record number of awards and recognition this year!
➤ My blog is especially popular in: The USA, The UK, Canada, India, Australia, South Africa, and Germany.
➤ 53% of my readers are below the age of 35.
➤ 54% are male; 46% are female.
To identify my top posts, I used the number of page views according to Google Analytics. In the past, I created a formula using a combination of page views, social sharing, and comments, but Twitter stopped providing share counts in the fall. So I decided to keep it simple this year.
A big surprise – the top seven most viewed posts during 2015 were NOT written in 2015. One post written in 2012 had over 26,000 views this year alone. And three of my "Top 10 All-Time Viewed Posts" were never on a "Top 10 For The Year" – which means not only are my older posts still strong, they are gaining momentum over time.
Once again, I am in awe of the number of insightful and thought-provoking comments on my posts. I put a lot of effort into writing posts, but your comments are what bring them alive. They offer an opportunity to explore the topic more deeply and stimulate new thinking.
So thank you, dear readers. You make it worthwhile!
Now the drum rolls for 2015! (blog posts that were written in 2015)
Number 1:  The 10 WORST Popular Leadership Quotes
This post went viral(ish) – the first day it was published it got over 5000 views! And it's the most socially shared post.
Number 2:  Situational Team Decision-Making: Collaboration Does Not Require Consensus
One of the real pleasures of writing a blog is I get to test out my new thinking. I get instant feedback on whether it makes sense or not. Apparently this model works – it has had over 10,000 views so far and over 1500 social shares.
Number 3:  3 Approaches to Culture Change: What Works
You can't "do" culture change to an organization. Culture won't change by decree or through training. Here are 3 approaches that work and their pros and cons.
Number 4:  9 Essential Leadership Strategies in Today's "Age of Information"
A short story about the shift from the Industrial Age to the Information Age, the implications for leadership, and what it means for those of us who did not grow up with technology.
Number 5:  Vision Requires Action: 7 Tips to Move and Keep Moving
Creating a shared vision is one of the most important roles of a leader. But vision alone is not enough. Vision requires action.
Number 6:  To Be a Better Leader You Must Kill Your Darlings
In this interview, John Bell, former CEO of Jacobs Suchard and author of Do Less Better, tells how "killing his darlings" saved his company.
Number 7:  Vision and Execution Are Not Sequential
One of the biggest mistakes leaders make is moving from vision to execution as though it's a linear process. The widely held assumption is they are two ends of a spectrum and you go back and forth between them. Actually, when you do it right, it's not linear or circular, it's simultaneous.
Number 8:  How to Delegate Effectively and Minimize the Risk
Delegating is often one of the hardest things for a manager to do. You give away your authority to make decisions but are still responsible for the outcome if something goes wrong.
Number 9:  How to Create a Dynamic Strategic Plan in an Unpredictable World
(Written on December 16, this post didn't have time to get enough exposure to make the list, but it has already had over 3000 views in just two weeks!)
The traditional approach to strategic planning is obsolete in today's fast-paced, unpredictable world. (60-80% of firms fail to execute their strategies). But planning is essential to success, if you do it right. Here are 5 guidelines to create a "Dynamic Strategic Plan" that will enable you to respond quickly and to be creatively proactive.
Number 10:  Relationship Currency Transforms a Transactional World
This did not make the list either, but I am adding it because it is my personal favorite. This is a heart-warming true story of my experience buying a new home this year and shows how human connection can be more important than money.