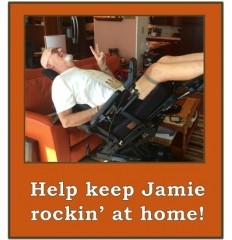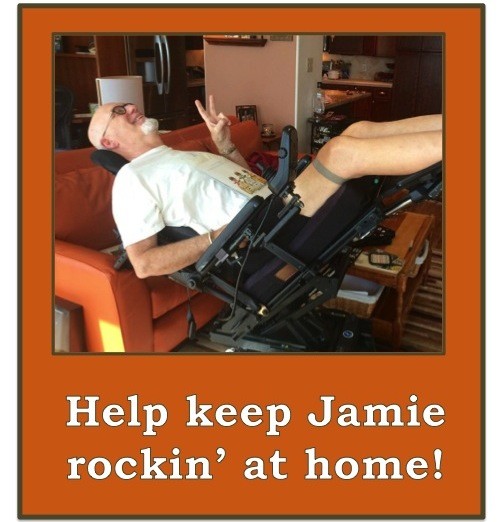 Last spring my good friend and fellow Berrett-Koehler author Jamie Showkeir received the nightmare diagnosis of ALS.
By summer, he needed the support of a cane. By fall his legs no longer supported him. Today he has only 20% use of his arms, cannot feed himself, and needs total assistance getting in and out of his wheelchair and with other tasks of daily living.
Throughout all this, Jamie remains a bright, loving, generous man, who is mentally sound and engaged in life. He is teaching us about the true meaning of authenticity and courage.
If you'd like to know more about Jamie, read this excellent article in the Arizona Central: When the reality of ALS hits you harder than a bucket of ice water.
Jamie needs our help.
Health insurance helps with Jamie's medical needs, but NOT with in-home care. Jamie is too large for his wife Maren to lift and has reached the point where he needs full-time caregivers.
A small group of us have launched Keep Jamie at Home – a campaign to raise $60,000 to cover in-home care for the next 6 months.
The Power of a Social Community
We can't raise that money alone. It is our hope that an emergent network will arise to support Jamie.
An emergent network is a type of community that arises in response to an issue, and once the goal has been achieved, naturally dissolves. They are a growing phenomena due to the opportunity for easy access and connection afforded by the Internet, particularly through email and social media.
The loose, non-hierarchical Internet is a perfect environment for emergent networks. It is almost impossible for them to arise in traditional, control-oriented organizations because their very nature is fluid and flexible. And, they require a very different view of leadership, as described in my article Emergent Leadership Topples the Pyramid.
In their book A World Gone Social, Ted Coiné and Mark Babbitt provide many examples of what these powerful networks have accomplished.
Has Jamie touched you in some way? Have you met him? Did you listen to my interview of him and Maren about their book Yoga Wisdom at Work. Or have you read Authentic Conversations? If so, you are part of his community. Even if you don't know Jamie, I hope you will consider joining us and helping out a man who has given so much to so many.
Leadership will come in many forms. If you have an idea for how you could help support Jamie, please pick up the ball and move it forward. That's how emergent leadership works. Anything you can do is greatly appreciated.
UPDATE
Within a week of launching the Keep Jamie at Home campaign, we raised over $65,000! To learn more about what happened see: An Emergent Network Gone Wild.