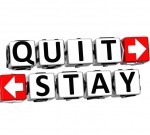 Employees are not a replaceable commodity. According to recent research, the tide has turned and employee retention has become a critical issue for organizations.
One of the easiest and most effective ways keep top talent is through "stay interviews," developed by Bev Kaye and Sharon Jordan-Evans. First described in their bestseller, Love 'Em or Lose 'Em, they have fleshed out how this works in their new book Hello Stay Interviews; Goodbye Talent Loss.
What I particularly like about this approach is it puts the responsibility for retention in the hands of the people who are in the best position to make a difference – the direct managers. And it is something managers can easily incorporate into their job.
I had the privilege of catching up . . . → Read More: How Managers Can Solve the Problem of Employee Retention