I thoroughly enjoyed this 20-minute podcast interview with Kevin Cashman, author of six books, including the pioneering book on how to grow the whole person to grow the whole leader, Leadership From the Inside Out.
An Overview of What We Explored
If we're doing to talk about leadership, we need to agree on a common definition so we know we're talking about the same thing. This is a topic I explored in my blog post A definition of leadership for these pressing times. I appreciated Kevin's definition as it is aligned with my own thinking, and it created a great jumping off point for our conversation. In addition to providing a great definition of leadership, Kevin talks about the role of authenticity and courage in leadership that makes a real difference.
Kevin says there are 8 areas of leadership master: Personal, Story, Purpose, Interpersonal, Change, Resilience, Being and Coaching.
During our interview, we dig in to a deep Story Mastery. We discuss how stories are the language of leadership, how to identify and share meaningful leadership stories, and destructive stories that backfire.
We also discussed Resilience Mastery. Resilience is about human energy and 92% of the CEOs in Kevin's research said that this was the most challenging for them.
Click below to listen to our interview:
I hope you enjoy listening to Kevin as much as I did.
About Kevin Cashman and Leadership From the Inside Out
Leadership from the Inside Out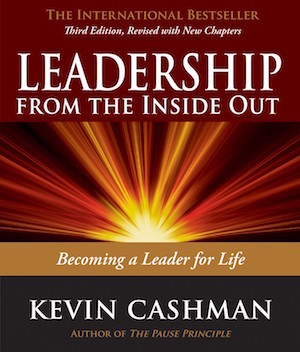 was first introduced 20 years ago and has since become a bestselling business classic. This long-awaited third edition, based on new research, updated and expanded offers new stories, exercises, practices and chapters to help leaders develop the eight mastery areas. Cashman demonstrates that his trademark "grow the whole person to grow the whole leader" approach, focusing on purpose-driven leadership, is even more relevant in today's hypercomplex world.
Kevin Cashman is Global Leader of CEO and Executive Development at Korn Ferry, a global keynote speaker, and the bestselling author of six books, including The Pause Principle.
#Podcast Interview With Kevin Cashman