Please join me for an inspiring and informative conversation as I talk with my friend and colleague Lolly Daskal, author of the bestselling book The Leadership Gap: What Gets Between You and Your Greatness. During our 20-minute podcast, Lolly talked about:
How greatness resides in each of us, and how to fully embrace your greatness.
How what makes you great can also lead to your downfall.
Your greatest leadership opportunity is in discovering who you are – not only your values and goals, but embracing all of who you are, including your strengths and weaknesses.
How these ideas apply in other relationships with your peers, your boss, and your family.
Click below to listen to our interview:
When The Leadership Gap was first released I wrote the blog post The Shadow Side of Leadership based on the concepts in the book. At that time I endorsed the book saying, "I read it, I love it, I recommend it!" and I still do.
About Lolly Daskal and The Leadership Gap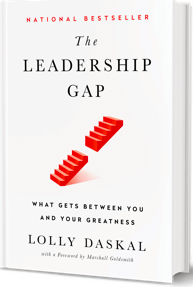 In her bestselling book The Leadership Gap, Lolly Daskal shows how to create personalized plan to step fully into your greatness. Her proven system, which leaders at any level can apply to dramatically improve their results, begins with identifying your distinctive leadership archetype and recognizing its shadow.
Lolly Daskal is one of the most sought-after executive leadership coaches in the world. Her extensive cross-cultural expertise spans 14 countries, six languages and hundreds of companies. As founder and CEO of Lead From Within, her proprietary leadership program is engineered to be a catalyst for leaders who want to enhance performance and make a meaningful difference in their companies, their lives, and the world. Based on a mix of modern philosophy, science, and nearly thirty years coaching top executives, Lolly's perspective on leadership continues to break new ground and produce exceptional results. Of her many awards and accolades, Lolly was designated a Top-50 Leadership and Management Experts by Inc Magazine. Her writing has appeared in HBR, Inc.com, Fast Company (Ask The Expert), Huffington Post, Psychology Today, and others. Follow Lolly on Twitter @LollyDaskal and connect with her on LinkedIn.
Lolly Daskal Podcast – Click on link below to listen