How you create your vision is as important as what it says. Here are stories of two companies that illustrate this important lesson and 5 guidelines for how it's created.
The Story of an 11th Hour Turnaround
In 1994, Connecticut became the first state to open telecommunications to the competition. The local telephone company, Southern New England Telephone (SNET), was the smallest of the "Baby Bells" with a typical monopoly culture.
In anticipation of deregulation, the officers had created a new vision for the company, competitive strategies, and a comprehensive business plan.
But when they looked at the culture of their company, they realized their sleepy monopoly culture was not going to be able to implement their new competitive strategies. Employees did not understand and were not committed to the significant changes that would be needed in their attitude and behavior if the company were to become a competitive retail service provider.
The only people who understood and bought into the new vision were those who had been involved in creating it – the officers.
The officers needed to do something drastic, quickly. Realizing they had not paid enough attention to how it's created, they immediately began a high-involvement initiative.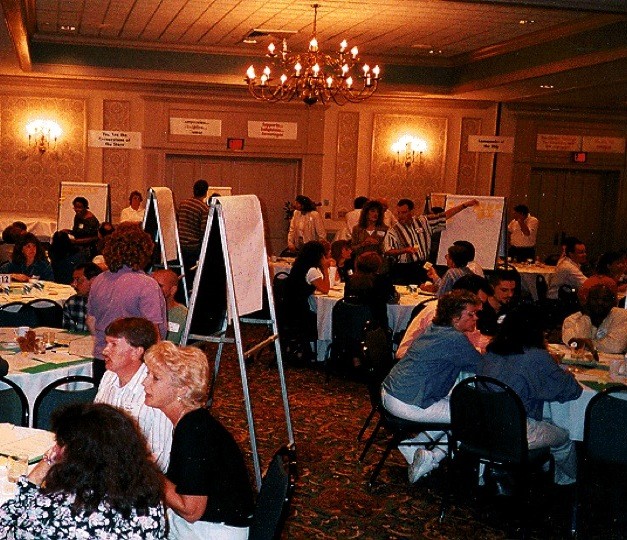 Using RTSC, a collaborative change process, they held two three-day meetings – one of 500 people and another of over 800 – to confirm the strategies, to identify a vision of the new culture and the values needed to guide behavior and decisions, and to identify roadblocks that needed to be removed. During these meetings they engaged in real dialogue and made decisions in real-time to create a vision that inspired a critical mass of the organization to quickly reshape their culture.
It was a tremendous effort with a huge payoff.
And it a great lesson for the officers in the importance of early and deep involvement. If they had involved wide representation of management and front-line workers during the earlier planning process, their people would have joined them on the journey from the beginning. Not only would there have been better understanding of the strategies throughout the company, the officers would have gotten good input on feasibility of the strategies and what would be needed for successful implementation.
How Edelman Public Relations Created Their Vision
Right from the start, Edelman involved all 38 offices and all staff levels with the specific purpose of creating a shared-focused future. "We were a company in transition, evolving from an organization with international offices to a true global network," said Richard Edelman, who followed his father into the role of president and chief executive officer. "We recognized that companies with clear focus, vision, and goals have a proven positive business impact. It was apparent we needed that to continue to succeed." Click here to read the story of how Edelman created their vision.
5 Principles for How It's Created
You can craft the most wonderful solution or plan, but if you do it in isolation, you might be surprised by the lack of enthusiasm it generates. When people participate in creating a plan, they have a deeper understanding of what's needed and are more invested in its success.
Taking the time upfront to involve people can be frustrating for those who already have ideas or are feeling urgency. Remember to have patience with process. Go slow at the beginning in order to go faster and smoother later.
The planning process itself creates learning and change for those who participate in it. If you wait to pull people in at the end, they will not understand the issues the way you do, nor will they share your enthusiasm.
As you proceed, pay attention to how, not just what, you are doing.
Trust your team. Have the courage to ask, listen, and let go of control. You will actually be a better leader as a result.