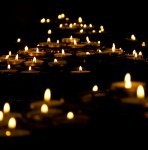 With a heavy heart and prayers for the grieving Sandy Hook families and the Newtown community, I have taken a break from blogging and regular online conversation these last few days.
Throughout Connecticut we are in shock and devastated. This is a small state and not as densely populated as many people imagine. Newtown is a lovely rural community. It is unimaginable that these horrific events could happen anywhere, and in a small peaceful town, it is unfathomable.
I feel helpless as I imagine the frightened teachers heroically doing everything they could to protect the children. As a parent, I want to hold my own children close.
How can we possibly make sense of the senseless?
When we move quickly to anger and blame, we . . . → Read More: Feeling Pain and Taking Action