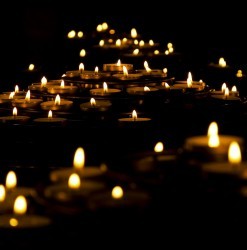 With a heavy heart and prayers for the grieving Sandy Hook families and the Newtown community, I have taken a break from blogging and regular online conversation these last few days.
Throughout Connecticut we are in shock and devastated. This is a small state and not as densely populated as many people imagine. Newtown is a lovely rural community. It is unimaginable that these horrific events could happen anywhere, and in a small peaceful town, it is unfathomable.
I feel helpless as I imagine the frightened teachers heroically doing everything they could to protect the children. As a parent, I want to hold my own children close.
How can we possibly make sense of the senseless?
When we move quickly to anger and blame, we can avoid feeling the enormity of the pain and loss. I have chosen to be silent to honor the heartache.
However, when we stay too long in silence and fail to speak out, we can miss the opportunity to make a difference.
So my challenge is to both continue to mourn the loss of these precious, innocent souls and also to take action – not a knee-jerk reaction out of anger and blame – but rational intelligent action.
Obviously there is no single cause or simple solution that can prevent another horrific tragedy. There are widespread systemic issues that need to be dealt with in our society. And before blaming everyone and everything else, we need to look at ourselves and how we treat each other."
HOWEVER, one simple, important thing we can do right now is to request our legislators to ban assault-style weapons that have no other use than to kill large numbers of people rapidly. In Connecticut, Governor Malloy has called a special budget legislative session for December 19. Many of us have emailed our state representatives asking them to introduce a bill to ban these kinds of weapons.
I am not just another "anti-gun zealot" pushing a political agenda. I focus on collaboration and seeking common ground. But I am deeply concerned about the easy accessibility of assault-style weapons like the Bushmaster that are designed solely to attack human beings, not for sport or for defense. According to Nicholas Kristof, "In 1996 Australia banned certain rapid-fire long guns. In the 18 years before the law, Australia suffered 13 mass shootings — but not one in the 14 years after the law took full effect." In his well-written article, he offers some reasonable suggestions for regulation.
I speak out because I have no choice. I would prefer to remain silent, but I am haunted by the message in John F. Kennedy's favorite quote: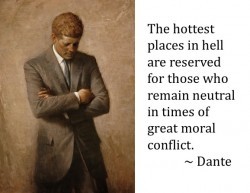 Is it possible to hold the enormity of this tragedy – to experience our own anguish and offer prayers for comfort and healing for our Newtown neighbors – and at the same time to take thoughtful, intelligent action? I think it is possible, and I think that time is now.