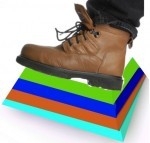 What's your view of leadership? If you're like most people, you have an underlying belief that leaders should be out in front of the line, leading the way.
The Hierarchical View of Leadership
In the traditional, hierarchical view, senior leaders are at the top of the organization and ensure the organization fulfills its mission effectively.
There are differing views about how leaders should behave – the best leadership style. For example, you might think leaders should be directive or participative or both depending on the situation.
Although Steve Jobs, Hilary Clinton, Ronald Regan, Sheryl Sandberg, and Howard Schultz have very different leadership styles, they all have one important thing in common – their role as a leader is to stand in front of their organization . . . → Read More: Emergent Leadership Topples the Pyramid