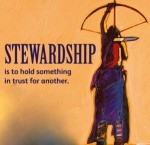 Stewardship is about choosing service over self-interest. It begins with a willingness to be deeply accountable for a body larger than yourself – for a team, an organization, a community.
Imagine how strong your organization would be if everyone were deeply committed and accountable for its success.
These are not new ideas. The evidence and research results are in, and we know for a fact that partnership and participation are the management strategies that create high-performance workplaces.
Words like empowerment, collaboration and partnership have been tossed around for years.
So how are today's organizations and institutions doing?
Here in the United States, the answer is, "not so well." According to Peter Block, author of the seminal bestseller Stewardship: Choosing Service Over Self-Interest, "A few . . . → Read More: Stewardship Is an Alternative to Leadership