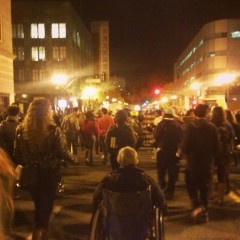 If you are tired of "us vs. them" attitudes… if you are feeling frustrated or hopeless about those who don't agree with your views… if you are concerned about the polarization in this world today… if you are waiting for leadership that unites instead of divides…
… the best place to start is by taking responsibility for yourself.
Polarization is Self-Reinforcing
If you only talk with people who agree with you and only read and listen to news sources that hold your own viewpoint, you will get distorted, filtered information that simply reinforces your viewpoint.
Unless we let go of foregone conclusions, only looking for proof of what we already believe, we are doomed to be stuck at deeply opposing, unresolvable poles.
Set your viewpoint and judgments aside for awhile (you can pick them back up later), but first educate yourself about what is really going on around you.
1. Take in information. Get as many facts as possible. What occurred or is occurring now?
You can't depend on the "news" to spoon-feed you. The idea of unbiased journalism died a long time ago. Technology has created access to many direct sources of news. However, not all of it is accurate. And you must actively sift through the so-called information, look for patterns and identify those who are pushing an agenda rather than reporting facts.
2. Listen for understanding. What are the viewpoints of those you might not agree with?
It might be hard to listen to other viewpoints, especially when they are laced with anger and hatred. But there are nuggets of truth. And it is our responsibility to sift them out.
3. Now pick your judgment back up. Put what you've learned through your own filter of beliefs, values and feelings to make sense of it.
But remember to be honest with yourself that the "truth" you see is a filtered one.
4. Choose your actions wisely.
You don't have control over what you feel, but you do have a choice about what feelings you act on and how you act on them. Reactivity might make you feel better in the moment, but it often leads to regret down the road.
A New Parade
If enough of us do this, there is a possibility we can create space that invites collaborative leadership to arise – leadership that will move us toward a brighter future.
John Naisbitt once said, "Leadership involves finding a parade and getting in front of it."
Maybe we can start to form that parade.
Photo courtesy of Charlotte Ashlock