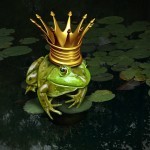 Did you ever get feedback that your behavior was having a negative impact on others? Perhaps you were told you're too critical… or don't listen enough… or are micro-managing your team… or even the other end – that you're not involved enough?
Have you ever worked hard to change that behavior, perhaps even worked with a coach, but then got feedback that they still saw you as a frog… not the prince or princess you thought you had become?
If so, you've not alone. One of the most common reasons people revert to old behavior patterns is because of lack of appreciation of their efforts, lack of acknowledgement they've changed, and lack of support to continue acting differently.
No wonder "change doesn't stick."
Why . . . → Read More: Why Nobody Noticed You Changed and 5 Things You Can Do To Make Change Stick