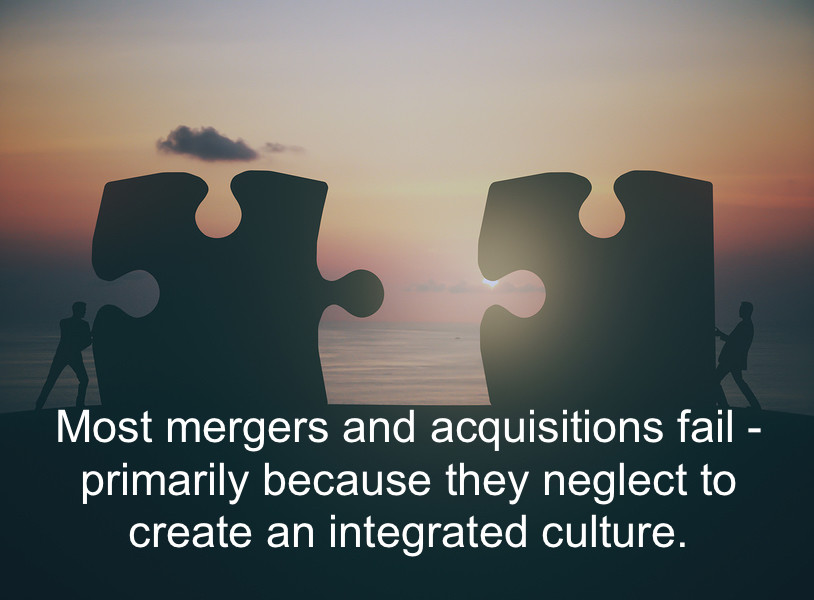 Expect an acceleration of merger and acquisition (M&A) activity in 2018. According to the latest research by Deloitte, over 1000 corporate and private equity executives report an anticipated increase in both the number of deals and the size of transactions.
A number of studies over the past decade have documented the acceleration of M&A activity and the issues they face. (e.g. Marsh Mercer Kroll, 2008; Allen&Overy 2014; and Aon Hewitt, 2011, 2015)
These studies show that while deal activity continues to increase, the rate of deal failure is alarming – over 50% of mergers fail to meet their targets!
Lack of Culture Integration
Culture integration issues were reported in every study as a primary factor in deal failure and has increasingly become recognized as a top issue in M&A.
The Aon Hewitt study concludes that "cultural quicksand makes doing deals a very risky proposition."
The Consequences of Not Addressing Culture Integration
Most companies have no clear approach to addressing culture integration. According to Aon Hewitt, 58% percent of companies reported that they did not have a specific approach to assessing and integrating culture in a deal. And the numbers were even higher for those firms who lost a significant number of critical talent – 68% did not have a specific approach for culture integration.
Companies that fail to manage culture integration effectively experience slower and more painful integration which includes:
Lower productivity and performance
Loss of key talent
Decreased employee engagement
Employee resistance to process change
Tension and poor morale
Failure to meet critical milestones
Slower execution
Why Culture Integration Efforts Fail
What about the companies that report they do have a culture integration plan? Why do so many of their culture integration efforts fail? According to Aon Hewitt the top reasons for the failure of a culture integration effort are:
– Lack of agreement among leaders on the vision of desired culture. (48%)
– Lack of leadership support (44%) – giving lip service to the effort but shortchanging it on investment and attention.
– Inadequate communication and involvement of employees. (34%)
Allen&Overy concluded that dealmakers need to be "more aware of the need to manage the complex employment issues that inevitably arise before and during integration."
What Successful Companies Do
According to research conducted by the Research and Analysis Division of The Economist Group, the sister company to The Economist newspaper, "The antidote to these problems is pro-active management of culture integration… Organisational cultural differences and human capital integration issues are the two most significant transaction issues faced, and dealmakers must pay close attention to people issues in every phase of the transaction."
Companies that are successful in culture integration communicate and involve employees throughout the company in these eight activities, with the full attention and commitment of senior leadership:
1. Determine the ideal future culture.
2. Assess current state of culture(s).
3. Identify gaps between current and identified culture.
4. Identify the desired behaviors and expectations.
5. Conduct team building sessions.
6. Redesign HR programs and practices.
7. Actively manage employee engagement and involvement in change.
8. Track progress towards the ideal culture.
Photo credit: Bigstock/g_peshkova | Culture Integration in Mergers and Acquisitions