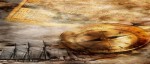 Are you enthusiastic about your work? When you reflect on your day at work, do you feel a deep sense of satisfaction? Is the person you are at work the same as the person you are outside of work?
If the answer to any of these questions is "no," it's possible you might be caught in leadership drift. You might have heard about team drift, where teams lose their focus without realizing it. The same thing can happen to individuals.
You might be adrift without realizing it.
Why Leadership Drift Occurs A huge external shift
You might have been thrown off track initially because of something huge like a hurricane or a serious illness, and by the time the dust settled, you forgot . . . → Read More: 4 Ways Leadership Drift Can Catch You Unaware