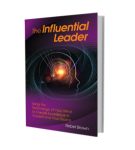 Guest Post by Rebel Brown
Whether you're a small business owner or an executive of a large corporation, you are leading humans and their minds. The two are inseparable. Did you know that the words man and mind come from the same Sanskrit root?
The sum of our individual selves is housed within our mindware, the programs we've created throughout our life's learning and experiences. No two humans have the same mindware. Hence no two humans have the same perceptions, thought processes, communication styles, motivational responses or behaviors.
Understanding individual human mindware is the key to next generation leadership.
Whether we're making a decision about our strategy, designing a new product promotion, selling to a new prospect or solving a problem for a . . . → Read More: Neuroscience, Mindware and Influential Leadership