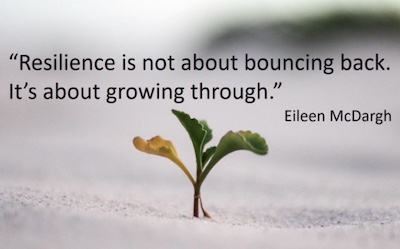 Guest Post by Eileen McDargh
The shock waves keep coming: the pandemic, economic downturns, massive unemployment, social upheaval and heightened awareness of racial injustices, and most recently – incessant fires and hurricanes.
We need to be resilient to deal with all this. But what does that mean? It depends on how you define resilience. According to the dictionary, it means "to recover size and shape after deformation caused by stress; to recover from or adjust easily to misfortune or change" or as commonly defined to "bounce back."
Is that what you should try to do?
In a word: NO!
Resilience is not about "bouncing back." As much as we might sometimes yearn for things to return to the way they used to be, there is no going back. It's simply not possible. Consider this maxim: "you can't enter the same river twice. The water has moved on."
Instead, define resilience as "bouncing forward." Resilience is a life skill that helps us grow through challenge or opportunity. It's about managing your energy.
Without energy, it's impossible to be resilient. Our energy becomes depleted when we become anxious, overwhelmed, overworked, and fearful of the future. Right now, perhaps you and your organization might seem frozen in place, trying to do business as usual when we all know there is nothing usual about it. And in fact, you're never going to be able to go back to what used to be business as usual.
Here's how individuals and organizations can use these chaotic times to become truly resilient—to grow… not retreat.
1. Practice intelligent optimism. Individually and collectively, explore possibilities in this new world rather than cling to the past.  Consider how this world of virtual actually allows us to see each other and to talk. I'll bet that even if you were located in the same building, you probably communicated via email- a flat message that often stood for escalation and error. Instead of saying "this is horrible", ask what advantages might we have here?
2. Be GROSS (Get Rid of Stupid Stuff). Trust me, you have systems, policies and procedures that offer no value anymore, that might be tied to "legacy" and that drain creativity and resources.  At home, put GROSS into practice. Create a donation box for Goodwill or the local thrift store. Clean out closets, the garage, the kitchen, and yes- the piles of papers on your desk. It's hard to grow when you are weighted down by stuff.
3. Reach out to your family to see how you might grow together… a game night, a virtual dinner party, a virtual happy hour, playing musical instruments, singing.  The list is only as short as the imagination of all concerned. My granddaughters are discovering new things to make with sourdough bread mix. We're getting text pictures of from-scratch fruit pies and homemade jams. Instead of being bored and restless, they are learning AND growing.
4. Show up for your team. Show up in empathy, transparency and humility. You do not have all the answers about what this future might bring, but you DO have the ability to be a calming voice. But be warned: if your actions don't match your words, it rings hollow. Also consider inviting mental health professionals and local business leaders to share how their lives have been impacted by these times and what they have discovered. When we begin to realize we are not alone, we find strength.
5. Recall a time you were resilient in the past. Remind yourself of a time some event struck, and you didn't think you could get through it: a death, divorce, job loss, diagnosis, you name it, and identify what brought you through the event. What were the skills you used, what attitude was most helpful, what did you learn? What can you use from that situation to apply to this one? I guarantee you, in most all cases, we forget how resilient we were and how that event put us in a far different place. We just forgot what strength we had.
Remember the words of Harriet Beecher Stowe: "When you get into a tight place and it seems you can't go on, hold on—for that's just the place and the time that the tide will turn."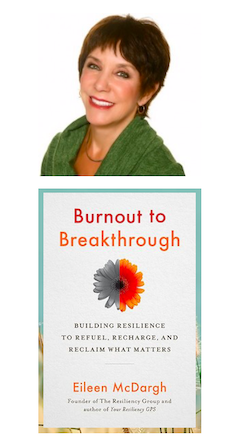 Eileen McDargh, CSP, CPAE is the CEO  (Chief Energy Officer) of The Resiliency Group. www.theresiliencygroup.com
Since 1980, she has helped organizations and individuals transform the life of their business and the business of their life through conversations that matter and connections that count.  She is a master facilitator, award-winning author, and internationally recognized keynote speaker and executive coach. Rank as ranked as #3 of the World's Top 30 Communication Professionals in 2020 by Global Gurus International.
Her clients have ranged from global pharmaceuticals to the US Armed Forces, from health care associations to religious institutions. Her programs are content rich, interactive, provocative and playful—even downright hilarious.
Her newest book, Burnout to Breakthrough: Building Resilience to Refuel, Recharge and Reclaim What Matters is available on Amazon and all other booksellers. Find her on Twitter: @macdarling on LinkedIn  and Facebook