Dan does not remember the accident, although he was later told they found his truck down a steep ravine wrapped around a tree.
He has a fuzzy recollection of the ride in the helicopter. But he does not remember the EMT folks who saved his life at the scene by inserting a tube into his collapsed lung. Nor does he remember the emergency surgery at the hospital to repair his shattered hip, save his damaged eye, and set his broken hand.
In fact, he does not remember much of those first days while his family anxiously waited to find out if he would survive. But Dan's a fighter, and a lot of folks were praying for Dan that Thanksgiving week.
Dan Rockwell aka @LeadershipFreak writes a daily blog Leadership Freak on leadership and life lessons. His blog is inspiring, though-provoking and often confronts my assumptions. I like that.  I had reached out to Dan about a year ago when I first discovered it.  I liked his pithy, to-the-point approach, and wanted to find out more about who this person was. Over the past year, I have developed a deepening respect and appreciation for Dan, and I look forward to his daily post showing up in my email.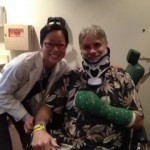 Dan's journey to recovery will be long and hard. And making it harder, are his mounting medical expenses. As anyone who is self-employed knows, there is no paid sick-leave.
Dan's out-of-pocket medical expenses are likely to exceed $30,000.
The Opportunity for Transformation
The opportunity for transformation is not for Dan. He's pretty amazing already. The opportunity is for his community.
Dan's accident has created an opportunity for those who have been touched by him to move beyond a professional network to become a community that supports each other in the full range of their lives.
Has Dan touched you in some way? Have you read his blog? If so, you are part of his community.
Even if you are not part of Dan's community, I hope you will consider helping out a man who has given so much to so many.
For more information on how to help Dan Rockwell, please click on the box below:

Also, anything you can do to help spread the word is greatly appreciated.
A special thanks and warm wishes for the holidays.