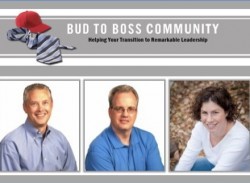 Creating an Online Community
What happens when you care deeply about something and have knowledge that can help others? Many people write a book on the topic, hoping to extend their reach.
What happens when you want to go beyond the reach of your book? You can start an online community like Kevin Eikenberry, Guy Harris and Becky Robinson did for From Bud to Boss, a wonderful newly released book for new leaders.
New leaders face many challenges that aren't quickly addressed through an orientation program or a seminar.
Stunning statistics from a recent DDI study revealed:
42% of new managers don't understand what it takes to succeed
More than half of leaders learned through trial and error
New leaders desperately need support on an ongoing basis. From Bud to Boss serves as a great resource on a myriad of topics.
But now social media provides an opportunity for authors to go beyond their book and offer a constantly refreshing stream of information and the opportunity to have dialogue on issues as they arise.  Although online communities are not new, creating one to support ideas presented in a book is an intriguing application.
Wanting to know more about what an online community is and could be, I decided to ask one of the authors Kevin Eikenberry about the Bud to Boss Community.
Why did you create the Bud to Boss Community?
New leaders often feel alone. The community is a place where they can go to find others who share the same challenges and have access to people with expertise in the questions they struggle with.
Learning is a process, not an event.  We created the community so we could continually provide new information and support learning on an ongoing basis.
Our hope is that members of the community will be inspired to take action.
Who is the community for?
The community is for people who have recently transitioned into a leadership role, and it is also for their bosses, HR and others who support new leaders.
What does the community provide that a book doesn't?
The community is interactive. It provides a forum – where people can ask and answer questions, where they can both receive and share.
The community also provides additional content, important information that we wanted to share but didn't have space to include in the book. We call these additional resources Bonus Bytes – helpful articles on a variety of topics from the book.
How do you join the Bud to Boss Community?
Anyone can visit the website to get access to a wealth of helpful information.  But book owners also have access to the forum, the interactive aspect of the community and the Bonus Bytes. (On page 5 of the book there are instructions on how to join.)
My own reflections
Having joined and explored the community, I can honestly say it is remarkable experience. At first it's like touring an amazing new country. I couldn't decide what to explore first. But as I got the lay of the land, I discovered it is a fabulous resource.
The discussions are especially interesting as people discuss how they are applying certain principles presented in the book. I especially enjoyed the discussion on the DISC model. This useful model for understanding personal style, motivation and communication is presented in the book, but comes alive through the online discussion.