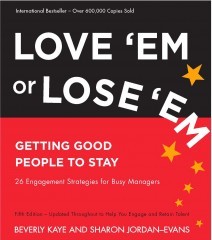 Guest Post by Beverly Kaye and Sharon Jordan-Evans

Celebrating the release of the 5th edition of the bestseller  Love 'Em or Lose 'Em: Getting Good People to Stay by Beverly Kaye and Sharon Jordan-Evans, which provides twenty-six strategies to keep talented employees happy and productive. In addition to updating and revising all information for the fifth edition, the authors have included more international stories and statistics.  
Beverly Kaye is the Founder of Career Systems International. Sharon Jordan-Evans is the President of the Jordan Evans Group. Their guest post illuminates one of the 26 strategies described in their book.
All great performers are interested in learning, and the opportunity to learn can be a greater incentive than a promotion or pay raise. Learning opportunities through job enrichment can alleviate boredom, motivate top performers and can even re-recruit disengaged employees.
It Can Happen to Anyone           
Did your own "job EKG" ever go flat? Did the feeling of challenge change to a feeling of routine? Did you start to wonder what else there was? Did you start to look around?
Unfortunately, your most valued employees are the most likely to suffer this sense of job discontent. By definition, they are savvy, creative, self-propelled, and energetic. They need stimulating work, opportunities for personal challenge and growth, and a contributing stake in the organizational action.
What Would You Like to Learn?
Job enrichment can provide employees with the growth, challenge, and renewal they desire without having to leave their job. It involves changing what they do or how they do it – which inevitably involves learning. In fact, it begins with asking, "What would you like to learn?"
Sergey had been in his current job for almost two years and was starting to think about looking for a new job because he was getting bored and didn't see any opportunities for promotion in the company. But that changed when his boss asked him what he wanted to learn next. When he said, "I'd like to develop negotiating skills," she replied, "Let's go for it." Here are the steps they followed:
Step 1. Conscious Observation. Sergey's boss selected an expert for Sergey to observe—someone who was exceptionally skilled at negotiating. After the observation, Sergey and his boss discussed what Sergey noticed, learned, would mirror or do differently.
Step 2. Selected Participation. Sergey's boss gave him the chance to take a well-defined but limited role in a negotiation (preparing the opening remarks with a vendor). The goal was to give Sergey an opportunity to get his feet wet and experience success. Following the meeting, Sergey and his boss discussed what worked and where there might be room for improvement.
Step 3. Key Responsibility. Sergey's boss gave him primary responsibility for a project that required negotiation skills.  Sergey completed the entire negotiation with the vendor and was both visible and accountable for the outcome.  His boss was present, of course, but would have stepped in only if Sergey requested his support.
One year later, Sergey still has the same job, but he continues to deepening his skills, take on more challenging assignments and is thrilled.
In short, creating learning opportunities and allowing employees to sculpt their jobs helps them turn the job they have into a job they love.