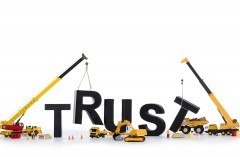 Your character is your greatest source of influence, no matter what your role or position. Your character is the expression of who you are. And influential character is built on a foundation of integrity.
I have never facilitated the process of identifying values where some form of integrity didn't end at the top of the list. Why? Because integrity sets the stage – it is the commitment to consistently act on your values.  
Without integrity, none of your other values matter.
Integrity means you can be trusted to say what you mean and do what you say.
When you are a leader, everything you say and do is magnified. You raise an eyebrow and people wonder what it means. You make an off-handed comment and people jump. Each nuance is considered a mandate.
This is the nature of leadership. It doesn't matter whether you like it or not. Your actions are being scrutinized every moment.
You can't take "time off."
If you are slightly inconsistent, it is magnified in the view of others.  You don't have the luxury of cheating in a silly game or telling a crude joke.
You can get compliance through bullying and manipulation, but you won't be trusted or respected.
If you want to be a leader who people choose to follow, they must trust you.
Trust is a state that arises naturally like love, joy and gratitude. You can't command it to arise in others, but you can create the conditions for it to arise. The only place you can start is with your own character – by consistently considering your impact on others and consciously acting with integrity in all ways great and small.