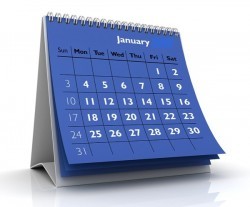 In 1999 I decided to re-prioritize my life. My children were five- and ten-years old, and my career was approaching a peak. I travelled two to three days a week and worked an additional 30 hours a week in my home office. I squeezed work into every crack – joining a conference call while preparing breakfast, responding to email while my children played, and preparing program materials after they went to sleep.
January of that year, I wrote several challenging goals. I taped them on the wall next to my computer so they were in plain sight.  What's more, anyone who came into my home office could see them as well.
In the area of work, I decided to make a bold move – to do 90% of my work within a two-hour drive of my home. There were a lot of potential clients in Boston and New York, but it meant finding new clients and giving up current ones – which took a leap of faith. Still, I felt so strongly about it, it almost wasn't a choice. My boys were growing up fast, and I didn't want to lose out on these precious years.
That year, I turned down all work that didn't fit my new parameters and began seeking new clients.  It was a little scary to create that space when there was nothing to fill it, but by the end of the year, I had landed a major long-term contract with a great company in the Boston area.
Another goal I set was to write a book. This had been on my mind for years, but I had never written it as a goal. I felt ambivalent about it. I had written many articles and developed numerous materials, but it was always driven by client needs. I wasn't clear about why I wanted to write a book, and I didn't take any specific actions.
The following January, as I reviewed my goals, I was astounded to realize I had achieved every single goal except writing a book. I was so proud I decided to leave my goals on the wall as a reminder.
Although I didn't include "write a book" in my 2000 or 2001 goals, it was still on the wall embedded in my 1999 goals. Glancing at it occasionally, I had a sense that someday I'd come back to that one.
In late 2001, something amazing happened. I got a call from my friend and colleague Ken Blanchard inviting me to write a book with him on vision (my area of expertise).  Now writing a book made sense, and everything about it began to flow smoothly. A year later Full Steam Ahead! Unleash the Power of Vision was published. Writing it was one of the most fun experiences of my life, and it's been incredibly gratifying to know it has made a difference for so many people. It has sold over a quarter million copies, has been translated into 21 languages, and last year Berrett-Koehler, our publisher, invited us to expand and revise it for a second edition.
My 1999 goals are still taped on the wall. They remind me of what can I can accomplish when I get really clear about my priorities. Here's what I learned about goals:
Write your goals down. 
The act of writing goals is important. It's not enough to just keep them in mind.
Put your goals somewhere visible, where you'll see them everyday. 
Goals that are filed in a drawer are likely to be forgotten.  You don't have to study them each day. If they are somewhere visible, you eyes will glance over them regularly, giving you a gentle subliminal reminder.
Don't keep your goals a secret. 
Let your goals be visible. If you share them with others, they might point out opportunities you're not aware of, provide advice on how to proceed and offer support to help you stay committed.
You have to really want it. 
There's an old joke about how many therapists it takes to change a light bulb. The answer is "Just one. But the light bulb has to really want to change." The same is true for goals. You have to really want it. Before you set goals, check your motivation. In 1999, I was just interested in writing a book, but didn't really want it in the way I wanted to spend more time with my children.

Goals need to be connected to a larger purpose

that shows why they are important, and helps answer the question "What's next" once they are achieved.
Why do you want to accomplish that goal? If it is to please someone else or if it's because you think it's something you "should" do, it will be difficult to stay committed and you are likely to not be very satisfied even if you do achieve it.
Carry your goals over to the next year to create a sense of flow. 
When goal setting, keep your previous goals in mind. Don't just start over anew each year. For goals that have been accomplished, identify the next step. If you didn't achieve the goal and it's important, bring it forward. Consider whether it needs to be made more crisp or tweaked in some way.
Goal setting is not always a logical process.
Usually I recommend writing SMART goals –specific, measurable, attainable, realistic and time-bound. HOWEVER, sometimes it can make a difference to just hold the intention of something you really want to do, even if you don't have any idea of how you will achieve it—like my goal of writing a book. If I had written a SMART goal in 1999, I would have given up on it by the end of the year, deciding it wasn't realistic.  But because I kept the goal visible and held the intention, when the opportunity did presented itself, I was able to respond quickly.