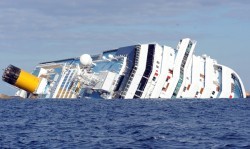 The events before, during and after the January 13 tragedy aboard the Costa Concordia point to a true failure of leadership at every level, from the captain who ran the luxury liner aground during a drive by "salute" off the island of Isola del Giglio to the chief executive Pier Luigi Foschi who denies any responsibility. Two days ago Foschi told a newspaper they were unaware of this practice.
Why didn't they know?
What was operating in the culture of the company that would give rise to these dangerous practices and where senior leaders were disconnected? Curious what company values were driving these behaviors, I searched the Costa Cruises website.
The week of the accident, these values were listed on their website:
Passion for our Guests (a spontaneous sense of service attitude)
Costa Human Resources  (competence, diligence, loyalty, morality, friendliness and enthusiasm)
Team work
Innovation and creativity
Financial performance
Ethics
Where is safety? Even reading the definitions carefully, safety is not mentioned. On the other hand, if these values were being lived consistently, it is possible safety might be assumed.
Fun Before Safety?
Is it possible that the real values driving behavior are a misinterpretation of what customer service means? Pleasing the customer and providing fun experiences are not customer service if you are putting the customer in jeopardy.
A quick visit to the Carnival website (owners of Costa Cruises) gives a strong message that it's "fun for all and all for fun."  If you search hard enough, you can find a safety policy, but it is not easy to find.
A Case For Infusing Values
I decided to check out another cruise line also known for being fun. On the Disney website safety jumps out – it is listed in the sidebar menu.
Of course ultimately, the issue isn't what is displayed on their website, but what is lived. However, we can make a good guess at the culture by how they portray themselves.
Values Make Cents
It appears the Costa owners think they will save money by not taking responsibility for the culture that gave rise to these dangerous practices. They are making a big mistake. In the long run, having clear company values and using them for critical decisions makes sense financially, as Johnson & Johnson proved 30 years ago during the famous Tylenol tampering incident.
When values are not infused throughout a company, people are left to use their own judgment. It's the reason I fired my lawn service last spring. And in the case of the Costa Concordia, not ensuring that company values guide decision-making has been more than costly, it's deadly.