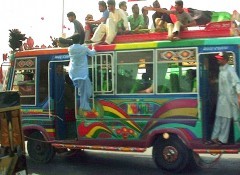 Organizations need people who know what they're doing, where they're going, and have the skills to get there. We call that "talent."
Unfortunately, there's a common misbelief that the best way to get talent is to buy it – not build it – by ranking everyone, eliminating those at the bottom and hiring new people to replace them.
This approach was first popularized in the 1980's by Jack Welch at GE and was reinforced in 2001 by Jim Collins who told us to "get the right people on the bus and the wrong people off."
By 2012, 60% of Fortune 500 firms were using some type of ranking system – with dubious results. Vanity Fair contributing editor Kurt Eichenwald blamed Microsoft's stack ranking system for a "lost decade and a cannibalistic culture." He interviewed a number of current and former Microsoft employees who all cited stack ranking as the most destructive process in the company. Even though Microsoft finally abandoned this practice in 2013, it remains alive and well in many companies.
This practice leads people to focus on self-promoting instead of on development, and those identified at the bottom level are often high performers who simply did not spend enough time playing politics.
Treating people like replaceable commodities is not only disrespectful and demoralizing, but waiting for them to fail and then weeding them out does not make good business sense.
The best way to infuse your organization with talent is to develop it.
Yes, it's good to regularly bring in some new people with fresh perspectives to ensure the organization does not become stale. But if your organization is dedicated to developing internal talent, everyone benefits.
It's less costly to develop talent internally than it is to recruit and onboard new people effectively.

Developing talent internally is less risky than bringing in unknown, unproven outsiders because you already know there's a culture fit.

Morale is higher when people know they have an opportunity to learn and grow.

Creativity, innovation, and the ability to adapt to change increases.
Take a serious look at the potential talent you are likely missing.
What if you believed everyone has the potential to be a winner, and it's your job as a manager to develop winners?
What should you do with the bus? Park it (permanently) and get everyone off. Do you really want an organization full of passengers?
Enable people to drive their own vehicles by focusing on development and ensuring the vision is clear and shared.
Forget that clunky, gas-guzzling bus. Doesn't a fast, nimble fleet of vehicles headed in the same direction make more sense?