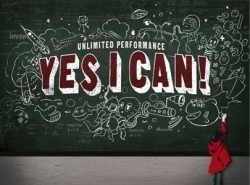 If your vision is only about yourself, you are too narrowly focused.
If you take only from your environment and contribute nothing in return, you are harming that which supports you. In fact, that's the definition of a parasite. And ultimately you are harming yourself.
Your vision needs to include the larger context in which you exist – your community. Strengthening your community makes you stronger.
My friend and colleague Hank van der Merwe, author of the powerful new book Live on Purpose, reminded me of the importance of this principle. Hank lives is Johannesburg, 
South Africa where "only 500,000 of the 1.5 million children starting school will end up sitting for their final year exams. Of these, less than 70% will meet the minimum requirement. And only 20% will get access to higher education."
Hank is concerned that the children in his community have little hope for their future. A professional speaker and expert on self-leadership, he volunteers his time speaking in schools with children about how they can take personal responsibility for their own lives. And he leaves them with a copy of  Yes I Can – a workbook he created for children that reinforces the concepts he talks about.
I was deeply touched when I saw his video.
Additionally, Hank challenges corporate leaders to join his "Pay It Forward" campaign.
We each need to find our own way to contribute, the one that works best for us. Hank's approach is to save "one starfish at a time." (Check out this short video if you're not familiar with the moving story The Star Thrower by Loren Eiseley that explains this concept.)
Some people seek to change systems that are not working, either from within or outside. Others, like Hank, choose to help individuals. Those of us who work within organizations can influence our companies to make contributing to the community more than a simple PR effort.
There are many ways to make a contribution. What's important is to find the right fit for yourself.
Three things to consider if you want to expand your vision:
Be aware of what the needs are in your own community. They may not be as drastic as they are in Johannesburg, but you can be certain your community needs you.
Connect with your community using the skills you have. You don't need to develop new skills. If you are a facilitator, help facilitate. If you are a speaker, speak. If you are a writer, write. If you are a leader, lead.
See yourself acting in the context of a larger vision and integrate your actions as part of your regular life, not something extra you do on the side.