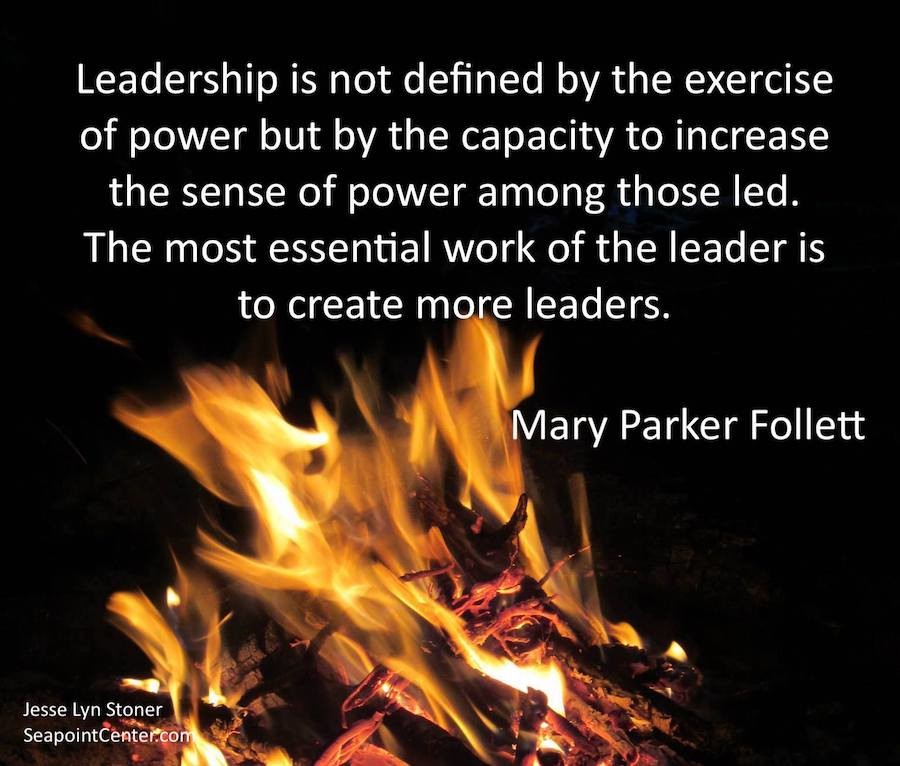 Have you ever heard of Mary Parker Follett? Her ideas and writings (from the 1920's) had a profound influence on many of the greatest leadership luminaries.
Warren Bennis said, "Just about everything written today about leadership and organizations comes from Mary Parker Follett's writings and lectures."
According to Peter Drucker, she was one of the "most insightful of the early management scholars" and it is said he called her "the mother of modern management."
Drucker believed she is not well-known today because she was "too far ahead of her time."
Today's world is ripe to understand and embrace Mary Parker Follett's leadership principles.
Drucker may have been right that she was ahead of her time then, but we are ready for her now. In fact, we need her now. And because she was a social scientist, her lessons apply not only to business, but to government and all kinds organizations.
These 15 quotes provide wisdom and guidance for today's world. Each quote stands alone, but together they point the way to creating a world that benefits all.
– Leadership is not defined by the exercise of power but by the capacity to increase the sense of power among those led. The most essential work of the leader is to create more leaders.
– The best leader knows how to make his followers actually feel power themselves, not merely acknowledge his power.
– That is always our problem, not how to get control of people, but how all together we can get control of a situation.
– Whereas power usually means power-over, the power of some person or group over some other person or group, it is possible to develop the conception of power-with, a jointly developed power, a coactive, not a coercive power.
– Coercive power is the curse of the universe, coactive power, the enrichment and advancement of every human soul.
– The most successful leader of all is the one who sees another picture not yet actualized. He sees the things which are not yet there… Above all, he should make his co-workers see that it is not his purpose which is to be achieved, but a common purpose, born of the desires and the activities of the group.
– The best leader does not ask people to serve him, but the common end. The best leader has not followers, but men and women working with him.
– Leader and followers are both following the invisible leader – the common purpose.
– The ignoring of differences is the most fatal mistake in politics or industry or international life: every difference that is swept up into a bigger conception feeds and enriches society; every difference which is ignored feeds on society and eventually corrupts it.
– Unity, not uniformity, must be our aim. We attain unity only through variety. Differences must be integrated, not annihilated, not absorbed.
– Fear of difference is fear of life itself.
– In crowds we have unison, in groups harmony. We want the single voice but not the single note; that is the secret of the group.
– There are three ways of dealing with difference: domination, compromise, and integration. By domination only one side gets what it wants; by compromise neither side gets what it wants; by integration we find a way by which both sides may get what they wish.
– Democracy is not brute numbers; it is a genuine union of true individuals…the essence of democracy is creating. The technique of democracy is group organization.
– We have thought of peace as passive and war as the active way of living. The opposite is true. War is not the most strenuous life. It is a kind of rest cure compared to the task of reconciling our differences … From War to Peace is not from the strenuous to the easy existence; it is from the futile to the effective, from the stagnant to the active, from the destructive to the creative way of life … The world will be regenerated by the people who rise above these passive ways and heroically seek, by whatever hardship, by whatever toil, the methods by which people can agree.
If you would like to know more about Mary Parker Follett, here is an article that summarizes her philosophy and approach to management and one with information on her technique "what business are you really in?"  Also, you can purchase her original writings: Collected Papers and her classic work in democratic political theory.
Photo credit: Noah Zemel | 15 Quotes by Mary Parker Follett