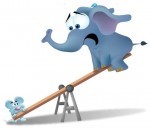 Chris is unhappy at work. He thinks the work is boring, and he doesn't like his boss or co-workers.
Why doesn't he quit?
The answer lies in Newton's First Law: An object continues to do whatever it happens to be doing and resists change unless an unbalancing force is exerted upon it.
An Unbalancing Force is needed to overcome resistance to change. The amount of Chris's unhappiness is not great enough to unbalance him. And no strong vision of an attractive alternative entices him to move.
An Unbalancing Force might occur if something big were to happen, such as if Chris were passed over for a promotion he had been expecting. Or he might quit one day if enough minor things built up until . . . → Read More: Create an Unbalancing Force If You Want To Move an Elephant