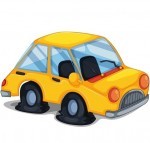 As more organizations are becoming flatter, the looming question is whether it's possible to "do more with less" or whether it's necessary to rethink the distribution of power and control as described by Peter Drucker, Peter Block and Gary Hamel among others.
Emergent Leadership Topples the Pyramid shows what a non-hierarchical view of leadership looks like. But these four practices are needed in order to self-organize successfully and prevent spiraling into chaos.
These practices provide the vehicle to move forward, and without them, your flat organization will end up with flat tires.
1. A Shared View of the Big Picture.
Agreement on the organization's purpose (reason for being), values (what guides people's behavior and decisions), vision (what it looks like in action), and strategy . . . → Read More: The 4 Practices of Successful Flat Organizations