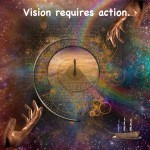 Creating a shared vision is one of the most important roles of a leader. But vision alone is not enough. Vision requires action.
Vision without action is a daydream. Action without vision is a nightmare. – Japanese proverb
First: Do a "Vision Check" to make sure you really have a shared vision.
➤ Does your vision include all three keys to a compelling vision?
➤ Did you involve others in creating it? Does the vision resonate with their own hopes, and can they see how they can contribute?
Now: Take action!
1. Start now. Take the first steps and other steps will be come clear.
Vision is about action, not planning. As you take steps, future steps become clear as you move forward. . . . → Read More: Vision Requires Action: 7 Tips to Move and Keep Moving