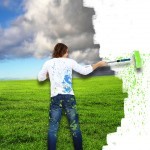 When I ask people to describe what it would look like if there were world peace, it's hard for them to conjure up specific images or descriptions. However, they easily provide vivid descriptions of what a post-World War III world would look like. All they have to do is describe a recent movie or a video game.
On a daily basis we are bombarded with images of destruction in movies, on television and even in electronic games that children play. In contrast, we see few images of a positive future.
The images we hold in our mind have a tremendous impact on the reality we create.
Positive images are not easy to find, but there are more than . . . → Read More: The Images We Hold Create Our Reality