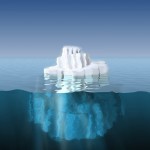 Do you think you're an effective leader? Feedback is one good way to find out, especially through "360 feedback."
But there's another, equally powerful way. Take a serious look at your beliefs – your "assumed truths" about yourself, others and how the world works.
Your beliefs dictate your behavior. And unexamined beliefs are like icebergs. Unseen below the surface, they can undermine your good intentions without your awareness.
Instead of believing everything you think, think about what you really believe.
Taking some time to reflect on these questions will help uncover some assumptions that might be interfering with your ability to align your behavior with your intentions to be a better leader.
1. What are you are willing to take a stand for?
When . . . → Read More: 5 Questions That Will Help You Be a Better Leader