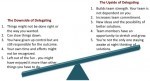 Where Do You Sit On the Scale?
Are you under-delegating? Are you a control-freak?
Are you delegating too much? Are you an absentee manager?
Are you erratic in doing both? Are you a seagull manager?
Problems arise when you are too far on either end of the scale. When you under-delegate, you are the only one staying awake at night thinking of solutions. When you over-delegate, you are in danger of being held responsible for a huge mess that you had no awareness of.
Three Signs You Are Under-Delegating
People head in the opposite direction when they see you approach. They're concerned you'll grill them about details of their work. When you talk with your . . . → Read More: The Ups and Downs of Delegating