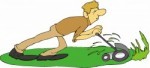 Springtime reminds me of fruit trees and the power of values-driven companies – or more accurately – the cost of NOT being one.
Small companies often think they don't need to bother with things like mission and values – that those are things for large companies. Big mistake.
It's why our tree service company lost our business.
They were very nice people, dependable and a good price. But they did not communicate guiding values to their employees, and one of them endangered my son's health. That was a show-stopper.
Here's what happened.
One lovely spring afternoon, one of the technicians stopped by unexpectedly to spray our fruit trees. The contact allowed them to come without calling first, which normally would not be a . . . → Read More: Small Companies Need Clear Values