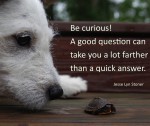 In a recent Huffington Post article, Ford Motor Company chairman Bill Ford and former Google.org director Larry Brilliant are described as "business leaders who advocate mindfulness." The article then goes on to list ten executives who meditate regularly. It's easy to assume mindfulness and meditation are the same. No wonder there's confusion.
With the increased interest in mindfulness in the workplace, many companies now offer classes in yoga, meditation, and stress reduction, and endorse activities such as spending 5 minutes each day doing nothing and taking time out for reflective reading.
These are all excellent activities, but they will not automatically create mindfulness.
Mindfulness is a way of being, not an activity.
Mindfulness is the practice of being fully present with the experience of . . . → Read More: Mindfulness in the Workplace Is More than Meditation