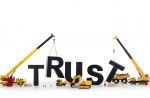 Your character is your greatest source of influence, no matter what your role or position. Your character is the expression of who you are. And influential character is built on a foundation of integrity.
I have never facilitated the process of identifying values where some form of integrity didn't end at the top of the list. Why? Because integrity sets the stage – it is the commitment to consistently act on your values.
Without integrity, none of your other values matter.
Integrity means you can be trusted to say what you mean and do what you say.
When you are a leader, everything you say and do is magnified. You raise an eyebrow and people wonder what it means. You make an off-handed . . . → Read More: Your Greatest Source of Influence