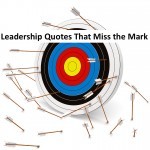 Great leadership quotes inspire and guide us. They become part of our mainstream language and instilled in our culture. We accept them as a reflection of the ideal, aspire to live them and use them when teaching others about leadership.
But sometimes a quote takes root that sends us in the wrong direction. Frequently these are from highly respected leaders who are often quoted. Not bothering to think critically, we just assume everything they say is on target.
Or it might be that the quote is pithy, and we like the way it sounds. The problem with a catchy slogan is that the form supersedes content.
These 10 "worst leadership quotes" are included on many "best leadership quotes" lists. Although these particular quotes miss . . . → Read More: The 10 WORST Popular Leadership Quotes