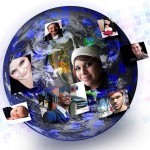 The Internet has opened the door for cross-cultural communication. Where the United States was once isolated because of its size and location, you can now easily communicate with people in other countries, for work or networking, without having to leave home.
If you work for a global company, your team might be located in the United States, Germany and India, but you can easily communicate via email and can have face-to-face team meetings through video-conference.
Social media offers wonderful opportunities for networking around common interests, and opens the door to direct conversation.
As the opportunities to use the Internet to communicate with people in other countries increases, we must think differently about how we communicate.
When you are physically in another country, you can see . . . → Read More: Simple Tips for Cross-Cultural Communication via the Internet