Two days ago I published an interview with John Bell, former CEO of Nabob (acquired by Kraft) and recently published novelist, about his radical career change. During that interview I asked John if he would be willing to write a guest post for current leaders about what he had learned from writing a novel that he wished he'd known as a CEO. I am delighted to host his guest post today, as John shares some excellent advice for leaders at all levels.
Guest Post by John R. Bell
I've written over a 100 blogs about leadership, strategy and culture. Within that portfolio are several accounts of business reinvention and transformation. Yet it was only a few months ago that I composed my first post on another type of reinvention – personal reinvention. My own.
You see, after I departed the corner office I had this crazy idea to write a thrilling historical novel. The means to that end was a lonely trek up a perilous mountain, its peak masked by high clouds. Along the way I faced several hazards and setbacks, and had I not summoned the traits that helped me succeed as a CEO, The Circumstantial Enemy would never have come to fruition. For eight years inspiration, passion, discipline, determination, and vison edged me upward to the summit of publishing's Promised Land.
I shared this story with best-selling author and consultant, Jesse Stoner, a woman who knows more than a thing or two about the power of enduring vision. Sure, Jesse was eager to hear how I became a published novelist, but there was something else on her mind; she asked if I'd considered this reinvention from the opposite direction. What had I learned from writing a novel that I wished I'd known as a CEO? Five things came to mind.
I Learned the Importance of Understanding my Audience
Every genre of fiction must fulfill the expectations of a unique audience. Imagine the difference between readers of erotic fiction and those of comedic fiction. If authors fail to understand and appreciate their readers, their books will disappoint. Likewise, if CEOs misjudge their shareholders and their customers, they too will disappoint. With regard to shareholders, I could have done better. But I continue to believe I was right to make the company's employees priority-one. Unhappy employees lead to unhappy customers and unhappy shareholders.
I Learned What My Characters Wanted
Fiction is about the characters and their motivations. Romeo and Juliet wanted each other. In The Circumstantial Enemy, Tony Babic wanted freedom from repression. Once I fully comprehended my characters' thoughts and feelings, writing what they would do or not do became easier. Like a novel's characters, employees are equally complex and interesting people with unique wants and needs. Like most CEOs, I was pulled in many directions. Devoting more time to better understand the company's most valued asset would have delivered better results.
I Learned to Take a Breather at the Crossroads of Indecision
Twice I faced writer's block. And twice, I put the work aside and didn't return to my manuscript until I found a solution. The second 'block' was the most distressing. Nearing the novel's finale, I realized that my ending was weak. I let it be for a couple of weeks and a better ending emerged. As a CEO, I thrived on quick decision-making. When your competitors have deeper pockets than you, you have to be nimble, prepared to take risks, eager to make early calls with 80% of the information rather than wait months for 100% of the facts. I'm thinking that the odd breather may have brought refreshing insights.
I Learned to Trust My Readers
This advice came from my editor. She said I have a habit of wrapping up scenes in nice packages. In fiction, everything DOES NOT need to be explained. Readers are intelligent. They enjoy the challenge of discovery. So do employees. CEOs can't do it all themselves. I admit to being an overly "hands on" leader. I should have given more rope. There's no doubt; the characters in the business I led were up to it.
I Learned to Regard Yesterday's Prose as a Small Victory
Every morning before I struck a key, I re-read the previous day's prose. Of course I made changes, but simultaneously I took pride in the fact that I'd made progress in taking the plot further. In business, there is always a list of big projects. Rightly or wrongly, achieving the annual budget usually rises to the top. CEOs who discipline themselves to celebrate small wins facilitate a culture of winning. Small wins lead to bigger wins.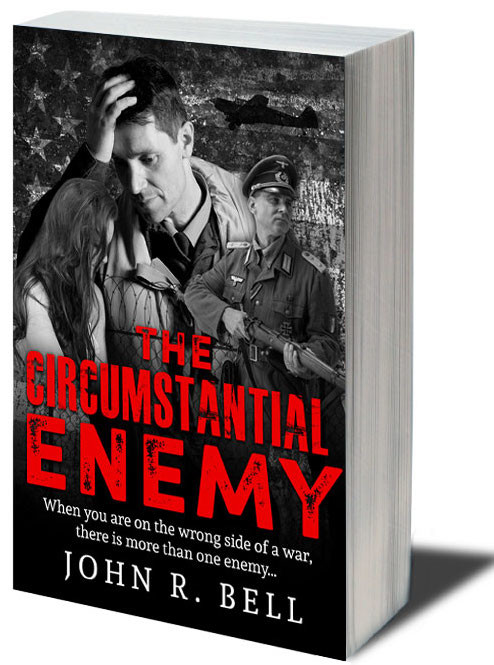 Before becoming an author, John Bell was a CEO, global strategy consultant, and a director of several organizations. A prolific blogger, John's musings on strategy, leadership, and branding have appeared in various journals such as Fortune, Forbes and ceoafterlife.com.
John's engaging novel, The Circumstantial Enemy chronicles Tony Babic, a young pilot who finds himself forcibly aligned with Hitler's Luftwaffe in 1941. Unbeknownst to Tony, his sweetheart Katarina and best friend Goran have taken the side of the opposing communist partisans. The threesome soon discover that love and friendship can not circumvent the ideals of this war. An energetic journey to freedom through minefields of hatred, betrayal, and revenge, this is a story about the strength of the human spirit, and the power of friendship, love, and forgiveness. Available at Amazon.
Photo Credit: Noah Zemel | 5 Things I Learned Writing a Novel That I Wish I'd Known as a CEO