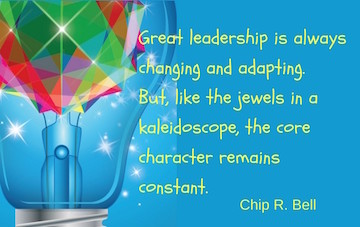 Guest Post by Chip Bell
I was scared… really scared. It was going to be a half-mile walk home alone in the pitch dark and I was seven years old. I was helping my grandfather with a project that ended up going until dark. I called my dad to come get me and he suggested I just walk home. It was on a country road with little or no traffic, especially after dark.
When I protested, he said, "Trust me, son. You'll be fine!"
All the way home I kept repeating his words…"trust me, you'll be fine!" And, I was fine. I also grew up a lot that night. What made his words cause me to lay aside my fears and take a giant leap of faith? It was partly because his words were always credible. They came from a man who always had my best interests at heart. But, it was more than his authoritative, "Trust me." It was his sensitive, "all about me" encouragement. It had a definite "big boy" sound.
Kaleidoscopes function differently from their utilitarian cousins—binoculars, telescopes and microscopes. Once you adjust these other devices to suit your vision, you just stare through them much like viewing a photo. Kaleidoscopes invite you to alter the cavalcade of color and design simply by shaking them or rotating the animator. The more you rotate, the higher the candlepower on your grin. And, just when you think you have seen the pinnacle of glass-mosaic artwork, another image tops the one before.
But there is an important feature of kaleidoscopes we often take for granted. The colorful pieces of glass or gems inside the working end of the kaleidoscope never change. We don't open up kaleidoscopes to change their gems (granddaughters call them "jewels").
Great leadership is always changing and adapting. But, like the jewels in a kaleidoscope, the core character remains constant.
And, one of the core components of great leadership is trust.
The anatomy of trust reveals its irrational, emotional and perceptual nature. We trust lots of medical personnel during surgery whose resumes we never check. We trust the food we eat in a restaurant without visiting their kitchen. "Real trust," wrote Seth Godin, "doesn't always come from divulging, from providing more transparency, but from the actions that people take (or that we think they take) before our eyes. It comes from people who show up before they have to, who help us when they think no one is watching." Like my dad, trust building is homegrown (from the heart) and handmade (actions speak louder than words).
Trust is not about facts and figures; it is about feelings and perceptions. Get off the plain of who is right and who is wrong; being effective trumps being correct.
Trust comes from a clear and present demonstration that you seek to know your employees' hopes and aspirations, not just their needs and expectations.
A superficial interchange will always yield a shallow understanding. And, the pursuit of understanding is the groundwater of trust.
Isadore Sharp, founder of Four Seasons Hotels, tells this story on the power of trust in his 2009 book, Four Seasons: The Story of a Business Philosophy.
Four Seasons Nevis [a tiny island in the Caribbean] was open a year…most of the people had never worked in a hotel before and many others had never worked anywhere. At the time, I was staying in one of our cottages along the beach and I ordered room service. A young lady came in with my order and set it up on the terrace—china, silver and crystal.
"Where did you learn to do this," I asked her. "What job did you have before?" "Oh, I never worked before," she told me. "This was my first job, sir."
"Then how did you learn to do this? There are a lot of items, and everything's here, placed exactly as it should be." "Well, sir, they taught me everything."
"That's interesting," I said. "How did they do that?"
And she explained, "They let me take everything home for me to practice with my family."
Four Seasons sees trust in much the same way as the late Stephen Covey –– as "the glue of life." "It's the foundational principle that holds all relationships," Covey says. Every time a customer deals with a service provider, a trust walk is involved. And, it can begin with a leap of faith in your employees that loudly proclaims to them, "You'll be just fine!"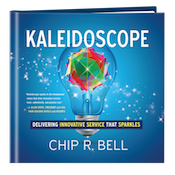 A note from Jesse: I am delighted to host this guest post by my friend and colleague Chip Bell, in honor of  the release of his exciting new book Kaleidoscope: Delivering Innovative Service That Sparkles. Chip is a master storyteller and communicator and his new book is a delightful kaleidoscope itself – entertaining, powerful and full of great advice. Kaleidoscope shows how the most successful companies are trusted because their innovative service comes from a deep source of genuineness and helps us understand the real meaning of service.
About Chip R. Bell A renowned keynote speaker and author of several national best-selling books including Take Their Breath Away, Managing Knock Your Socks off Service, Wired and Dangerous, The 9½ Principles of Innovative Service, and Sprinkles: Creating Awesome Experiences through Innovative Service, Chip R. Bell's newest book is the just-released, Kaleidoscope: Delivering Innovative Service That Sparkles, endorsed by the CEO's of Four Seasons Hotels & Resorts, Chick-fil-A, La Quinta Hotels, WestRock, Ultimate Software, Bloomin Brands, and the Vice Chair of Morgan Stanley. He has appeared live on CNN, CNBC, Bloomberg TV, Fox Business, ABC, NPR and his work has appeared in Fortune, Forbes, Entrepreneur, Inc. Magazine, CEO Magazine, Fast Company, Money Magazine, and Businessweek. He can be reached at chipbell.com.