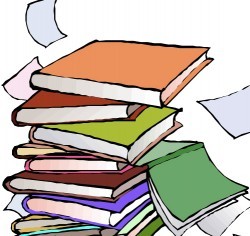 May 2 was the official launch date for the 2nd edition of my book Full Steam Ahead.
Although authors often invest in a comprehensive, intensive multi-media campaign for a new book, they rarely do this for a 2nd edition, especially when the first edition has already been established as a bestseller.
But I felt I needed to do something. People weren't going to buy the book if they didn't know about it.
We had worked really hard on the new edition, adding in new material, updating examples, and addressing new topics. The book was at least 50% different and, in my opinion, 100% better.
The Plan
I decided to do an "awareness" campaign to get the word out.  My intention was to get a review of the book published everyday for two weeks.
I contacted several journalists and bloggers and asked them if they would like to review my book.  Most of them agreed.  There's a bit of a risk in this approach because you don't know what the reviewer will think of your book. Most likely they won't write a review that trashes it, but there are no guarantees they will write a strong positive review.  However, I really believe in this book, its message and its power so it was a risk I was willing to take.
So that was my campaign plan….
until about 3 weeks before the launch when Lolly Daskal, a business consultant, speaker and coach who I regard highly, sat me down (virtually) for a heart-to-heart talk.  Lolly told me there were a lot of people on Twitter who respect me and that I would be foolish not to allow them the opportunity to help get the word out.
It was difficult to contemplate asking people to help. I finally decided that if I were going to ask people to ask their friends and colleagues to buy my book, I didn't want to also receive a personal financial gain.
My coauthor Ken and I decided we would donate our proceeds from sales that week to Give Kids the World, an organization we had used as an example and whose vision inspires us.
Within a week, under Lolly's guidance and ongoing support, I had set up a page on my Web site dedicated to the book and had contacted about 10 people, asking them to send tweets with a link to the book page. And Lolly helped me write sample tweets for them to send.
That was the campaign plan.
What happened?
A whirlwind week.  Twitter was abuzz with tweets. Most of the people I had contacted helped. What surprised me was that many people I had never contacted sent original tweets. And many people I didn't know retweeted. Again and again and again throughout the week.
By the end of the week, my initial goals had been surpassed.  The word was out. There was no doubt people had heard about the book. We had raised money for GKTW, and every single book review strongly endorsed the book. (I hope you will check out the reviews. Links are provided on my Book Page.)
I sent thank-yous to over a hundred people who had sent tweets, and I'm sure I missed some. And I couldn't even begin to count everyone who had retweeted. What's more, the tweeting continues—just now I did a search for #FSAbook and discovered more tweets!
What did I learn?
Gratitude leaves me speechless.
I was blown away by the generosity of Lolly Daskal, Dan Rockwell aka @leadershipfreak, and Becky Robinson who freely gave me advice, help and encouragement, without asking for anything in return.  I am in awe that so many people enthusiastically came forward to help.  It's taken me a long time to write this post because my primary learning and experience has been about gratitude, not the book launch. And honestly, I am still taking it in and find it difficult to write about.
Ask for help and you will receive it.
Ask, but don't have expectations on where it will come from. Some people won't come forward, but others you would never have expected will.  People have their own reasons for doing what they do; and usually it's about them, not you, so don't take it personally.
When you're clear about what's important, amazing things happen.
Even though I teach this, it continues to amaze me over and over again.  When I am clear about the end result I desire, know why it's important, and let the values guide my behavior, I don't have to plan all the details. Things naturally begin to unfold.  The best thing I can do is act on the opportunities as they arise rather than try to "make it happen."
Please don't misunderstand me. I do believe that plans are very important. But I also know that we need to keep open for unexpected opportunities and be willing to adjust our plans when they arise.
Amazon is incredibly easy to manipulate in the short-run.
It doesn't take a lot of book sales to push a book into a top selling category for a day or two.  The challenge is to maintain it over time. I was glad we had decided to donate our proceeds to GKTW for a full week.  But we did not raise as much money as I would have liked.  I've decided to do an extension: if you buy Full Steam Ahead after reading this post, send me an email, DM or leave a comment and I'll donate the proceeds from your sale.
Twitter is an amazing world.
Saturday morning I received an email….The story continues, but this post would be much too long if I tried to tell it here.  To be continued in my next post.