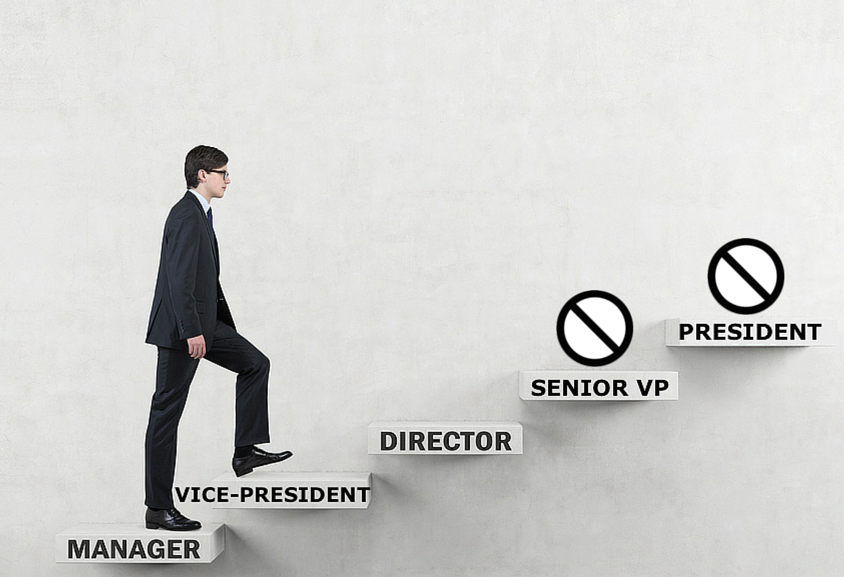 Traditionally, career paths have been based on the idea of "moving up the ladder." Success is measured by how high you get. A lateral move is usually not seen as a smart career move. Even when changing jobs to increase your skills, the expectation is the new position will be a step higher up the ladder.
The idea is to keep moving up until you've gone as high as you can. At that point, you have reached your "career peak." Depending on your age, you might be hanging out at your peak for a long time.
And that can be a problem for both the employee and the company. Whitney Johnson, author of Disrupt Yourself: Putting the Power of Disruptive Innovation to Work, advocates for career disruption, not career ladders. According to Johnson, when people reach their career peak, they start to stagnate and become bored. They lose interest because maintaining is not as much fun as building toward something. Their creativity in problem-solving ability decreases because their thinking becomes habitual.
Her book made me wonder what's really behind the "Peter Principle." Maybe it's not just a matter of promoting people to their level of incompetence. Perhaps they become incompetent because they are stagnating.
Career disruption is the new normal.
I had the privilege of speaking with Whitney Johnson to explore the implications of what she calls personal disruption for organizations.
Her newest book, Disrupt Yourself, shows that the journey to mastery follows an S-curve, where the enjoyment of mastering a new field of knowledge wanes as you become more competent, and your openness to new ideas wanes as your thinking becomes more automatic.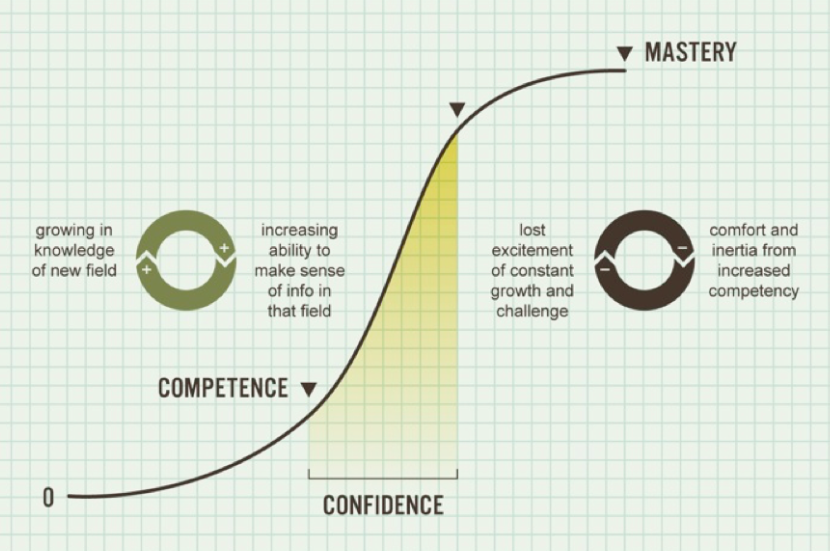 Johnson says, "To avoid stagnation and to fast-track your career and personal growth, you should be thinking about changing careers every three years."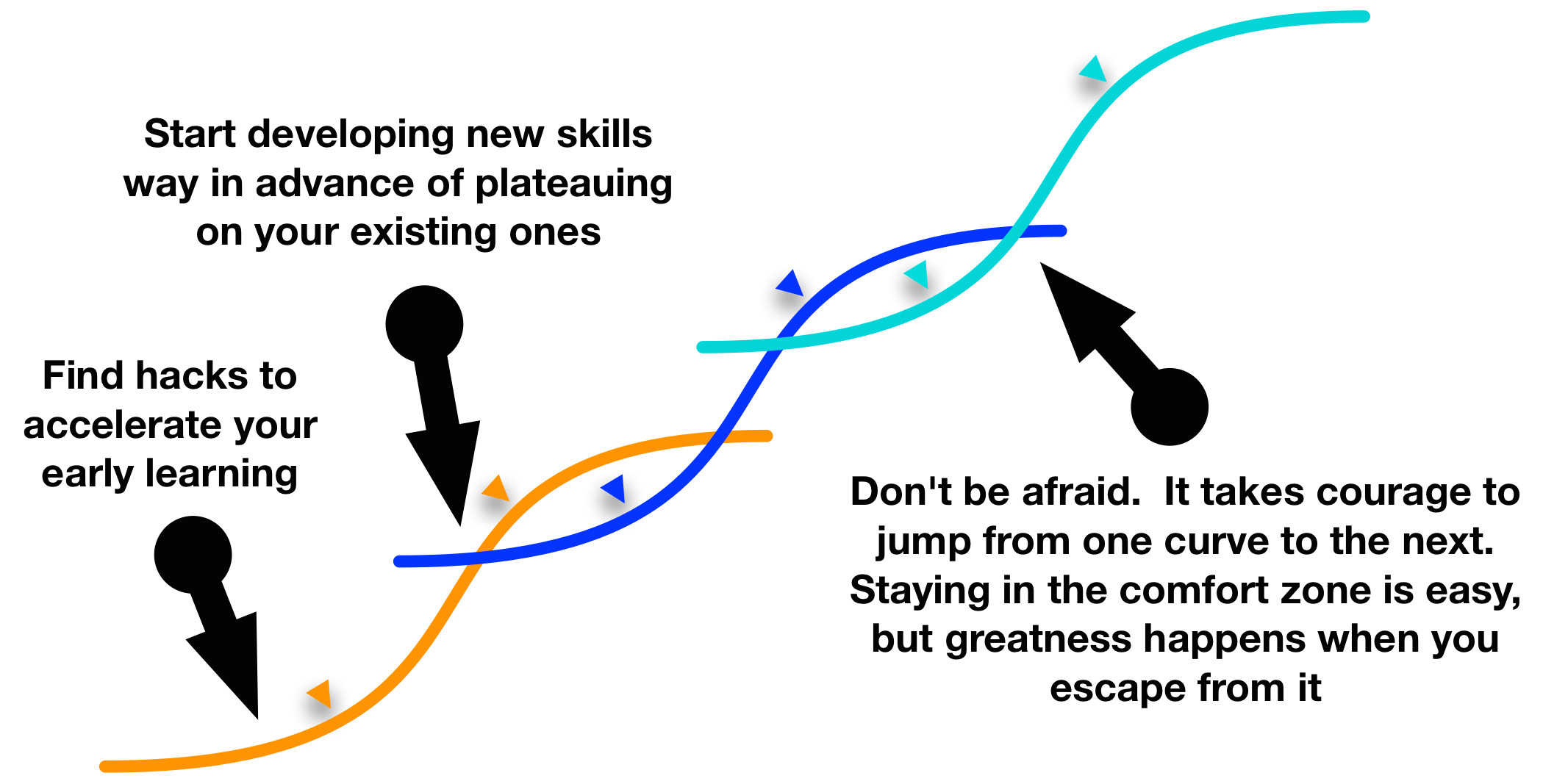 This means a career path should look like a series of S-curves, or waves. Instead of a straight path up a ladder, we should be thinking of career development as "wave riding."
According to a 2012 Future Workplace Study, 91% of Millennials expect to stay in a job for less than three years, and Fast Company reported a study pointing toward 4-year careers. In a recent Forbes article, Face It, Career Jumps Are the Future of Work, Meghan Biro concludes, "career mobility should be seen as a given."
Are our organizations prepared for career disruption?
According to Whitney Johnson, "We need to harness the power of disruption to create organizations where innovative ideas take root."
But how prepared are our organizations to deal with disruptive career development, let alone to harness its power?
Career paths are based on the traditional notion of a career ladder. Pay increase and prestige are based on upward movement. And career development programs are based on preparing people to move upward.
As more and more people disrupt their careers, organizations will be facing a revolving door of top talent, resulting in a loss of organizational memory and people who understand the vision and strategies.
And that will be very bad news for organizations. . . unless, a fundamental shift in the employer-employee social contract occurs.
The Employer-Employee Social Contract
The original contract, which governed most of the 20th century, was that in exchange for loyalty, the company would provide a job for life. However, toward the end of the 20th century, as a result of periods of downsizing where companies could no longer promise a job for life, the contract no longer held up.
In the 1990's a new contract emerged – that in exchange for a full effort and engagement while part of the company, the company would offer the opportunity to increase skills that could be transferred to one's new company. But the Gallup engagement studies have clearly demonstrated the new contract no longer works, if it ever did.
In today's increasingly complex world, where creativity and innovation are the seedbeds of growth, organizations need employees who are attuned to fresh thinking, not those whose thinking has become automatic. This means that the most valuable employees are those who are approaching the top of the S-curve, but have not yet settled at the top of their career ladder.
If Johnson is correct, instead of simply tolerating career disruption, organizations will need to support and even encourage it, which calls for a different contract.
The next contract needs to be that in exchange for creativity, fresh thinking and enthusiasm, the company will provide an abundance and variety of learning experiences and career opportunities.

Disrupt your organization's career path.
How should organizations support and encourage career disruption? What does the next contract actually look like in practice?
Megan Biro says, "The key for tackling it going forward is to not try to outmaneuver it. Instead, it's going to be offering far more opportunities to express ambition within the context of the same organization; to change the status quo." I completely agree with her, and I wonder if simply offering more opportunities will be enough.
It seems to me that organizations need to disrupt the career path itself – to throw everything we think we know about development out the window. We need to bring creative, fresh thinking, starting with questions like these:
What kind of jobs can we offer that are meaningful, and that give employees an opportunity to make a contribution and to maximize their potential?

How does our thinking need to change? What would it mean to change from thinking about "career paths" to "career opportunities?"

How can we change our norms and beliefs to view frequent job change as desirable?

What kind of pay structure would reward multiple skills rather than hierarchical position?

What job titles would reflect what people do rather than reinforce the importance of hierarchical position?

How can we offer clear career choices that support employees in taking charge of their own development?
Creating a new way of understanding and providing career opportunities is the only way we'll be able to create organizations where innovative ideas take root and to ensure our organizations maintain a critical mass of talent who are performing optimally.
The challenges in making the changes called for might seem risky, but the bigger risk is doing nothing and waiting until there is no choice.
*  *  *  *  *  *  *  *  *  *  *  *  *  *  *  *  *  *  *  *  *  *  *  *  *  *  *  *  *  *  *  *  *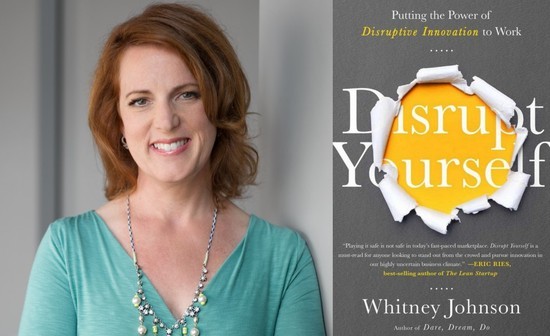 I wrote this article in honor of my friend and colleague Whitney Johnson's wonderful new book, Disrupt Yourself: Putting the Power of Disruptive Innovation to Work. Not only is her book helpful for individuals as they consider the multiple careers they are likely to face, but it is also helpful for leaders who want to drive corporate innovation through personal disruption. Johnson co-founded Rose Park Advisors, an investment firm with Clay Christensen, is a frequent Harvard Business Review contributor, a successful author and was named one of the top 50 most influential Management Thinkers by Thinkers50 in 2015.