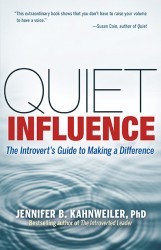 Guest Post by Jennifer B. Kahnweiler
I am delighted to host this guest post by my colleague Jennifer Kahnweiller in celebration of the launch of her excellent new book Quiet Influence: The Introvert"s Guide to Making a Difference.  Jennifer is recognized world-wide as the "go-to" expert on the power of introverts following the success of her first book The Introverted Leader.
Who gets their voice heard in the office? Now more than ever, it's not the ones shouting to make themselves known.  It's the highly effective quiet influencers:  introverts who use their natural strengths to make a big difference without making a lot of noise.
If you tend to be more reflective than talkative, more into writing than presenting, or more into listening than selling, here are six ways to use your natural strengths to an advantage:
1) Take quiet time: Introverts prioritize periods of solitude that provides them with a powerful source of creativity and self-awareness.  Tip:  Schedule quiet time on your calendar. Dim the lights, turn off the radio and reduce distractions from technology to get inside your head.
2) Prepare:  Introverts increase their confidence to influence others by increasing their knowledge, creating a strategy and rehearsing.  Tip:  Prepare on two levels. First, focus on content by researching your topic and getting your facts in order. Then, prepare yourself through visualization, role-playing and positive self-talk.
3) Listen:  This innate introvert talent helps Quiet Introverts establish rapport and mutual understanding – especially when they observe body language, ask questions and serve as a sounding board for others.  Tip: Slow down and get face-to-face when you can. Take the time to paraphrase what you are hearing to check your understanding.
4) Focus the conversations: Introverts excel at the serious, purpose-driven, one-on-one or small group interactions vital for problem solving, working through conflicts, and winning people over.  Tip:  Turn e-mail chains into conversations by picking up the phone or walking down the hall to see a colleague. You'll make an impression and give yourself a better opportunity to use your strong listening skills.
5) Write:  Introverts use this skill to influence others through deep, authentic, well-developed arguments that motivate others to action.  Tip:  Think of writing as your craft. Pay attention to words, build logical and persuasive arguments, and proofread to avoid distracting errors. 
6) Use social media: Introverts naturally use social media in a thoughtful and more effective way to develop and grow relationships, achieve visibility, and mobilize people—even those far across the globe.  Tip:  Don't stress yourself out by trying to participate in every new social media technology. Instead, go back to the plan you developed in your preparation phase. Match the social media you use to your intended audience and influencing goal, and then use that one tool well instead of diluting your efforts. 
By tapping into these strengths of quiet influence, extroverts and introverts alike can better benefit themselves and their organizations by effectively communicating insights and innovative ideas.
Interested in learning more about what kind of influencer you are? Go to JenniferKahnweiler.com and take a quiz to determine your tendency towards Quiet Influence. 

About Jennifer Kahnweiler. Jennifer is a workplace and career expert, international speaker and executive coach whose clients include General Electric Co., AT&T Inc., The National Center for Disease Control and Prevention and NASA. Her new book, Quiet Influence: The Introvert's Guide to Making a Difference (Berrett-Koehler, 2013) further establishes her as a "champion for introverts" and follows on from her 2009 hit, The Introverted Leader: Building on Your Quiet Strength (Berrett-Koehler, 2009).  You can follow Jennifer on Twitter @JennKahnweiler and find her on Facebook. For more information please visit www.jenniferkahnweiler.com.