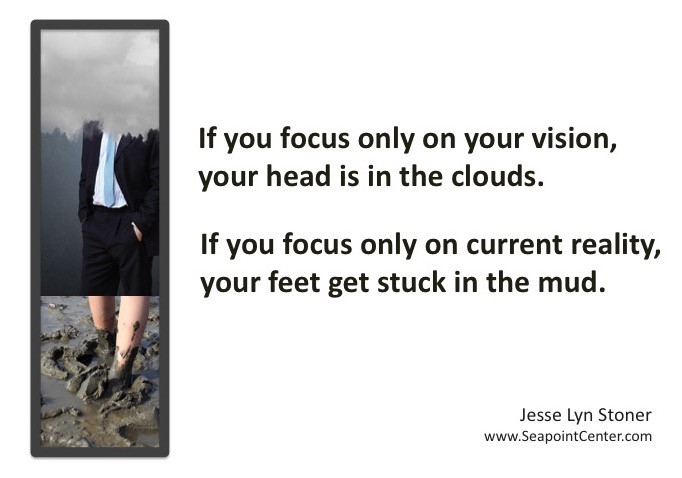 Some people focus only on current realities and what's needed to solve today's problems. They are primarily concerned about their next steps, looking down at where to place their feet. They move from solving one problem to solving the next, eventually becoming bogged down and demoralized by all of the problems. Their feet get stuck in the mud.
Some people focus only on a vision of the future they desire. They are energized and optimistic about the possibilities, looking forward toward the horizon. They are unaware of the current issues that might trip them and are unrealistic about how to accomplish their vision. Their head is in the clouds.
If you want a life that is about more than just surviving, if you want meaning and satisfaction, you need BOTH – a vision of where you want to go AND to be realistic about the current issues you are facing.
If are a leader, you need BOTH – to instill a shared vision of where you're going AND to address the very real issues that prevent your team from moving forward.
This is not easy to do because it creates tension and makes you uncomfortable. Hang in there because it is creative tension – the force that will propel you forward.
Thursday Thoughts: Keep your focus on your vision AND be honest with yourself about the reality of your current situation.
  *      *      *      *      *      *      *      *      *      *      *      *      *
In addition to my regular leadership blog, I offer "Thursday Thoughts" – simple truths to remind you of what you know and provide an opportunity for reflection and deeper understanding.