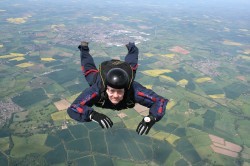 Roger had been working way too much and knew he needed to reprioritize and delegate. But he was nervous about letting go of control and was having difficulty identifying what he could delegate.
I was surprised when he mentioned he was going skydiving to celebrate his 50th birthday.  As a manager, he was practical and task-focused.  This was a side I hadn't seen before. It was hard to imagine him jumping out of an airplane, totally out of control, free falling at 10,000 feet. It seemed out of character. 
Honestly, it would be out of character for me, too. I considered what I would need to be ok about jumping. Here's what came to mind:
Training – Instructions and the opportunity to practice my skills in a safe environment.
Motivation – To know why I should do it and encouragement to hang in there as I developed confidence.
A parachute – I'm not jumping unless I have the necessary resources.
Would you push someone out of a plane without ensuring a safe landing?
Yet that's what many managers inadvertently do. They assign responsibilities and then disappear without making sure the conditions for success are in place – only to reappear after the splat.
Or they stand next to their people the entire time, micro-managing them, and never let them make the jump.
Both of these approaches to delegation have the same effect:  the delegation fails.  It creates a self-fulfilling prophecy that reinforces their attitude that delegating is risky. No wonder they are reluctant to delegate.
Effective delegating is more than assigning responsibility.
Here are 7 guidelines to be confident you are delegating effectively.
1. Plan to delegate.
Consider your direct report's skills, interests, and current workload.
Delegate recurring tasks, detail work, attendance at some meetings, and activities that may become part of your direct report's future responsibilities.
Don't delegate performance evaluations, disciplinary actions, confidential tasks, tasks specifically assigned to you, and sensitive situations.
Allow your direct reports some participation in determining what and when tasks are delegated to them.
Determine what monitoring should look like based on the complexity of the task and your direct report's skills and confidence. Don't disappear, but don't over-supervise. Hovering is counter-productive.
Delegate to the lowest level at which the task can be successfully accomplished. Do not bypass your direct report, but give him or her the authority to delegate the task.
2. Communicate clearly and completely.
Be specific, clear, and complete in communicating: What are the tasks, the goals, constraints, what good performance looks like, how progress will be monitored, how performance will be evaluated, when and how results of the task will be communicated you.
Get acknowledgement that your direct understands and agrees to the assignment.
3. Grant authority.
Grant enough authority to do the job: enough power and control over resources to get the job done.
Inform all who will be affected that the delegation has occurred.
4. Provide resources and recognition.
Provide all information that is available and relevant; pass on other information as it becomes available.
Ensure they have access to the resources needed to be effective.
Give public credit when your directs succeed at delegated tasks, but not blame when they make mistakes.
5. Don't take it back.
Require your direct reports to first propose their ideas for solutions to problems rather than just asking you what to do so you don't end up taking on their work.
Do not interfere, undermine, or "take the delegation away" unless your direct is clear that corrective action needs to be taken.
6. Maintain accountability.
It should be clear that your direct report has the responsibility for seeing the job well done and the authority to make needed decisions.
Remember that the ultimate accountability remains with you.
7. Delegate consistently.
Delegate consistently, not just when you are overloaded or when tasks are unpleasant.
A note to those who have been delegated to:
If someone has delegated to you and it's not working out, try using this checklist as a diagnostic. Is something not in place? Don't jump out of the plane without making sure you have a parachute and are confident you know how to use it.