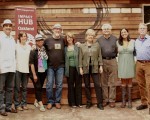 This is my last week as Executive Director of the Berrett-Koehler Foundation.
My involvement began two years ago when Steve Piersanti, president of Berrett-Koehler Publishers, asked me to help create a new organization that would further their mission of helping to create a world that works for all in a way that went beyond what they could do as a publishing company.
I began by facilitating a design team. After research and serious consideration, we determined the focus would be to support the next generation of leaders in putting into practice the systems-changing ideas and tools that authors were writing about.
We named it the Berrett-Koehler Foundation, incorporated and applied for 501(c)(3) status as a non-profit.
At that point I agreed to serve as the . . . → Read More: My Leadership Lessons as Executive Director