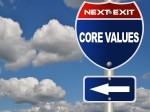 These questions and guidelines will help you surface the right values for your team. Team values don't need to be exactly the same as your company values, as long as they are aligned and don't conflict.
What values are needed to fulfill your team's purpose?
Values drive purpose. First identify your team's purpose. Ask, why does your team exist? What is the real service you provide to the company? What business are you really in?
Once you are clear about your team's purpose, then identify the values needed to fulfill its purpose. Purpose answers why. Values answer how. They provide guidelines for decisions and daily behavior that will help fulfill your purpose.
Your values depend on how you see the purpose of your team. . . . → Read More: How to Surface and Align Team Values