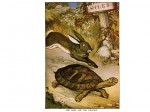 Leadership can be as simple as Mother Goose Management. Here are 6 lessons you learned a long time ago, that when applied, will make you a better leader.
1. The lesson of Alice and the Cheshire Cat: If you don't know where you're going, it doesn't matter what path you take.
Alice: Would you tell me, please, which way I ought to go from here? The Cat: That depends a good deal on where you want to get to Alice: I don't much care where. The Cat: Then it doesn't much matter which way you go. Alice: …so long as I get somewhere. The Cat: Oh, you're sure to do that, if only you walk long enough.
Leadership is about going somewhere. The first . . . → Read More: Mother Goose Management