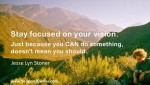 A compelling vision helps you make choices about where to focus your energy. Without vision, you are in danger of trying to be all things to all people, scattered or adrift.
In our book, Full Steam Ahead! Unleash the Power of Vision, Ken Blanchard and I explain:
"Vision is knowing who you are, where you're going, and what will guide the journey."
Who you are is your purpose. Where you're going is your picture of the future. What will guide your journey are your values.
Vision is about being great
A noble purpose is inspiring and helps you stay committed when times are hard.
A compelling vision is not about beating the competition or expressed simply in numbers. It's about being the . . . → Read More: Guidelines to Create a Compelling Vision